Estimated read time: 2-3 minutes
This archived news story is available only for your personal, non-commercial use. Information in the story may be outdated or superseded by additional information. Reading or replaying the story in its archived form does not constitute a republication of the story.
Kim Johnson ReportingBetween last Friday and today chances are good that you did at least some holiday shopping. Even though retailers decorate for Christmas before Thanksgiving, the holiday shopping season traditionally begins the day after. But the big kickoff weekend is getting mixed reviews.
There's good news and bad news about the shopping season. The good news for consumers is that we have two more shopping days before Christmas than we had last year. The bad news for retailers is the season is off to a slow start.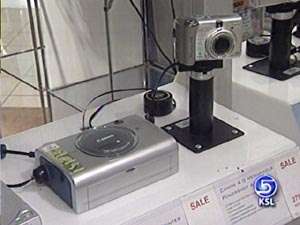 Across the country retail sales surged on Friday, only to stall and disappoint on Saturday. Some Salt Lake retailers say even though the kickoff weekend was slower than last year's, they're still optimistic about the rest of the season.
Joe McGrew of Downtown's Meier and Frank expects electronics to be big this year.
Joe DeGrew, Meier & Frank Manager: "Portable DVD players are very strong. The satellite radio is very strong. Anything in the electronic world is doing very well."
McGrew says besides electronics, home decor and kitchen items are selling well. As for apparel, sales in the men's department outpaced those of their counterparts.
Joe McGrew, Meier & Frank Manager: "Well, traditionally every year, not to be biased, but most of the ladies are out shopping for the men prior to Christmas. And then most of the ladies do their shopping after Chistmas."
Analysts say there's a distinct consumer divide this year between the haves and have-nots, and say high gas prices are taking a toll on the latter.
Marshal Cohen, Retail Analyst: "That's a big chunk of change that's coming out of their spending capabilities. So they're really feeling the pinch. So they're really going to be shopping more cautiously."
And Discount Stores like Walmart could feel the impact. Walmart posted sales well below expectations and saw its stock drop 2.6 percent on the New York Stock Exchange. Analysts say even though the kickoff weekend is important, it's not as critical as the ten days before Christmas. They say until then, retailers may have to get aggressive because most shoppers are going to be looking for bargains.
Another trend this holiday season, a survey by Big Research finds that more than a third of all shoppers plan to use debit cards so they can better track what they're spending on gifts.
×