Estimated read time: 2-3 minutes
This archived news story is available only for your personal, non-commercial use. Information in the story may be outdated or superseded by additional information. Reading or replaying the story in its archived form does not constitute a republication of the story.
Ed Yeates ReportingUTA engineers now know what happened two weeks ago when a surge of electricity "fried" circuitry in several signal houses along the TRAX rail lines. Ed Yeates visited one of those bungalows that was literally smoking at the time.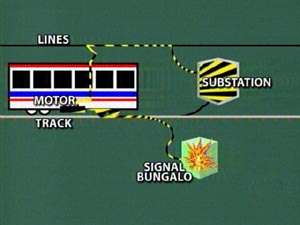 The signal bungalow had to be rebuilt from the ground up. It was one of five damaged in that electrical fry in the early morning hours of November 18th. Almost two weeks ago UTA teams were flagging down motorists because the disabled signal bungalows could no longer control some of the crossing arms. The circuitry inside the railside houses had been fried - melted! So what happened?
This is how TRAX trains work. Electricity from 21 substations flows along overhead lines, down to the motors, then discharges through the steel track to complete the circuit back at the substation again.
But on November 18th, as trains fired up at the main yard, electrical current pulled off a rather bizarre maneuver some distance away. Instead of completing the circuit, it took a wrong turn - a path of least resistance - through other underground cables that feed five signal stations. The surge overpowered the circuitry inside.
That is how it happened. But why?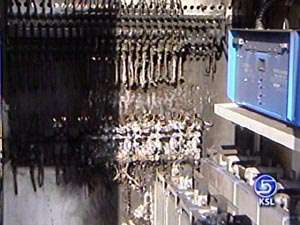 Ronald Benson, Maintenance of Way Manger, TRAX: "We are thinking about bringing some consultants to give us an idea of what could have been the causes, other than, we don't quite frankly know."
Was it a problem in a substation under construction at the main yard? Was it a power outage on Utah Power's system early that morning? Or something else?
Five signal bungalows were fried. The trains kept running, a plus, Ronald Benson says, to a well designed system. This design apparently came through last year during a major power outage. Even though seven major substations went down, the trains kept running.
×