Estimated read time: 2-3 minutes
This archived news story is available only for your personal, non-commercial use. Information in the story may be outdated or superseded by additional information. Reading or replaying the story in its archived form does not constitute a republication of the story.
Tonya Papanikolas Reporting
A group of white supremacist inmates who disagreed with a judge's orders today in court started a fight.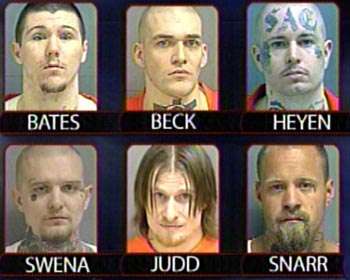 Twelve alleged members of the Soldiers of Aryan Culture came before a judge here today. All of the men are either in jails or the state prison. In December 2003, they were all charged either with RICO violations of racketeering or criminal acts that support their white supremacist ideology.
Today the 12 defendants were called before a judge. He wanted to inform the men that the court knew threats were being made against federal prosecutors in the case. So the judge told them their mail would now be monitored and he was banning their personal visits and phone calls.
This didn't sit well with the group's members. Some of them voiced their opinions vocally and physically.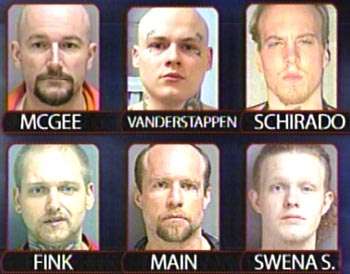 Ben Winslow, KSL Newsradio Reporter, Witnessed Uproar: "They stood up. One said, 'I've got something to say.' They started screaming obscenities at the judge. They had some very, very harsh words for the judge."
Stephen Sorenson, First Assistant U.S. Attorney: "The basis seemed to be that it was unfair, since there was no showing that they were the ones who had sent the threats."
Ben Winslow: "That's when punches started being thrown. US marshals started tackling these people. I watched them dive on them and grab them by the necks, trying to keep them under control as they started resisting. It just got very crazy, very fast."
The indictment against these men alleges the members of SAC have conspired to commit murder, attempted murder, extortion and the distribution of drugs. It says their members commit these acts often while they're in correctional facilities.
The men were shackled in handcuffs, but it didn't stop some of them from fighting. The US Marshals got it under control within a few minutes. Fourth South was shut down until the inmates were taken out of the courthouse and transported back to prison or jail.
×