Estimated read time: 4-5 minutes
This archived news story is available only for your personal, non-commercial use. Information in the story may be outdated or superseded by additional information. Reading or replaying the story in its archived form does not constitute a republication of the story.
Kathy Aiken and Sam Penrod Reporting Gary Crowton: "At this time I feel like it's time for me to step down and let the football program move on in another direction."
BYU administrators asked for his resignation, and head football coach Gary Crowton gave it to them today.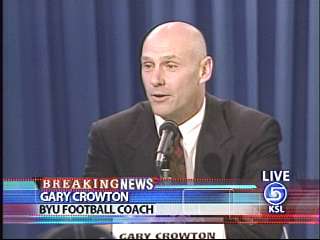 Today's announcement came as no big surprise, speculation had been floating around for weeks. Crowton met with school officials for three hours on Monday night and today it became official; Gary Crowton resigned.
This was not a day Gary Crowton had envisioned. Four years after saying hello as BYU's head coach. Today he was saying farewell to a program he had hoped to coach for many years to come.
Gary Crowton: "I feel like it's time for me to step down and let the program move in a different direction. I'm accountable for what happened. There's things I would change, and there's a lot of things I thought we did well. And I can tell you this, I always tried to do the right thing and I made some tough decisions, and you always gotta be making decisions to move forward and I made some tough decisions."
The university's decision was to ask Crowton to step aside so the program could move, in what they call, a new direction. The committee looked at recruiting, leadership, academics and off-field situations.
Tom Holmoe, BYU Athletic Director: "It's important they we get somebody on board in a timely fashion. But it's more important that we get the right guy. There's some things that have happened here under Gary's administration that are positive, that we can build off of. This under no circumstance was a disaster."
Crowton remains optimistic about BYU's future with 17 starters returning next season. But with three straight losing seasons and a 26-23 record, Crowton won't be here to see it, though coaching the Cougars was always his dream.
Gary Crowton: "I'm thankful for this opportunity, and I'll tell you I've grown from it. I'm better from it, I'm stronger, and I'm ready for my next challenge."
Crowton hopes that next challenge is back in the coaching business. He's already spoken with several coaches about other possible opportunities.
With BYU's religious expectations, their list of possible replacements isn't real long, and many expect Kyle Whittingham of Utah to be high on that list.
Crowton struggled with three consecutive losing seasons. But was his resignation also tied in to off-field problems involving football players?
It's clear that Gary Crowton's resignation was not his idea, but the problems of a few players have brought hard questions for Crowton and BYU in recent months. Today BYU tried to make Crowton's departure look as good as possible by giving him a graceful exit.
After more than a year of high profile headlines of football players involved in honor code violations and in some cases criminal allegations, Gary Crowton acknowledged members of his team have given BYU unwanted publicity.
Gary Crowton: "I don't want to bring any embarrassment to the university as their coach and leader, but there was some embarrassment."
The most serious allegation involves a rape investigation inside the apartment of two players before the football season ever began. Several players were suspended from school for honor code violations from the incident and remain the subject on an ongoing criminal investigation.
Gary Crowton: "The way I looked at those kids and as I evaluated them and the coaching staff and all the things we talked to them about, I felt like these things were not going to happen. But they did, young men are young men and they make mistakes, we all make mistakes."
The interim athletic department administration says the honor code is an important part of its goal for a successful football program.
Tom Holmoe, BYU Associate Athletic Director: "There's a standard for academics, athletics and behavior. And there's a standard at this university that we all love and uphold. And that is something that we look to as a positive and not a negative."
BYU says that the future coach will have a lot expected of them, both on and off the field.
Tom Holmoe: "The next coach will definitely have pressure; the pressure in college football and athletics is part of the business."
Of course there were off-field problems before Crowton and no one expects that kind of trouble to end now that Crowton's coaching era at BYU is over.
×
Most recent Utah stories