Estimated read time: 2-3 minutes
This archived news story is available only for your personal, non-commercial use. Information in the story may be outdated or superseded by additional information. Reading or replaying the story in its archived form does not constitute a republication of the story.
Jed Boal ReportingThe stalled Legacy Highway is sputtering back to life. The state believes it has resolved court roadblocks and plans to build the highway. Opponents today offered their alternative plan and hope to break the impasse that has lasted three years.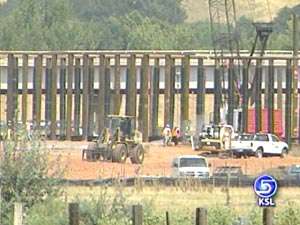 A court order stopped work on the highway nearly three years ago. UDOT originally believed cars would be rolling on it by now. Instead it has worked to fix the project to meet court approval. Meantime, opponents who successfully sued to shut it down have come up with their own plan.
Legacy construction started four years ago, but was ended by a court order three years ago. Opponents have said all along that they want transit and commuter rail first, before building Legacy.
A coalition today released the Citizens Smart Growth alternative. It calls for commuter rail and light rail. It proposed widening I-15 and improving and extending Redwood Road, rather than a new highway.
UDOT went back to the drawing board when the appellate court ruled UDOT failed to adequately consider options in design and location, impact on wetlands and wildlife, and failed to include mass transit.
Legacy opponents argue their proposal will meet the expectations of the court and the needs of the people.
Bob Adler, Transit First Coalition: "The whole idea here is to meet the transportation needs of Utah citizens and to protect the critical ecosystem of the great Salt Lake and protect the open lands, which is why we all live here in the first place."
John Nord, UDOT Executive Director: "The court didn't ask us to make significant changes. They asked us to address some limited deficiencies, and we have done that in this new document."
UDOT will release its Supplemental Environmental Impact statement Friday. Then there will be a 60 day comment period and an open house for the public in early January.
UDOT believes it will be repermitted. Opponents will wait and see what consideration their proposal is given before thinking of other options.
×