Estimated read time: 2-3 minutes
This archived news story is available only for your personal, non-commercial use. Information in the story may be outdated or superseded by additional information. Reading or replaying the story in its archived form does not constitute a republication of the story.
Richard Piatt ReportingQuick thinking, CPR, and live birth are part of a the job for paramedics. But in Cedar City one EMT had to apply her skills in a very unusual situation; she performed a cesarean section on her dying dog in order to save three puppies.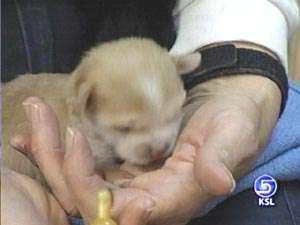 The puppies are practically celebrities as their story spreads. They're healthy, but still vulnerable and clinging to their surrogate mom -- paramedic Carolyn Shaw.
Shaw was in her ambulance two weeks ago when her husband called her home. Her Chihuahua, Annie, was dying with her puppies inside her.
Carolyn Shaw: "I wondered if I could do CPR on her and I wondered if she had a heartbeat. So I grabbed my stethoscope and she had no heartbeat. But as I was holding her I could feel the babies move inside of her."
Annie ended up dying in Shaw's hands, but then Shaw realized the clock was ticking. Annie was limp and lifeless as she moved to the kitchen using one of her sharp knives to perform a make-shift C-section. One by one the puppies emerged, but needed to be resuscitated.
She and her fellow EMTs went to work.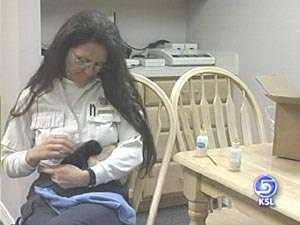 Kori Barker, Paramedic: "At first there was a breath every nine seconds, and I was like, 'come on.' And then they started coming around."
In her ambulance--but no lights and siren-- the puppies made their first trip to the vet. A quick check up and a dose of puppy formula and the doc says everything's fine.
Kelly Esplin, Veterinarian: "I think if you can get them to eat, they'll be just fine, and they'll have a great opportunity to grow; and I think they can make it."
Shaw is already looking at the puppies with a mix of joy and sadness, realizing Annie would on some level be glad her puppies have a good shot at life without her.
Shaw says she doesn't plan to keep the puppies, but says there are already plenty of people who have expressed an interest in adopting them.
×