Estimated read time: 2-3 minutes
This archived news story is available only for your personal, non-commercial use. Information in the story may be outdated or superseded by additional information. Reading or replaying the story in its archived form does not constitute a republication of the story.
Amanda Butterfield reportingDennis McKomb, Salt Lake City Fire Dept: "Extreme cold takes it's toll, on our firefighters, more then the actual heat does."
In freezing temperatures, firefighters douse yet another house fire this week in Salt Lake.
It's been a week full of house fires, and Thursday morning was no exception.
Two fires: One a house, the other an apartment. In both cases, all inside were able to get out, but not without significant damage.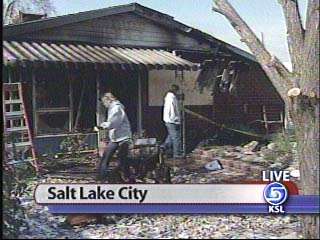 In the house fire, it was determined that an electrical problem inside the kitchen and dining room caused the fire. Firefighters haven't pinpointed exactly what caused it, but it was accidental. The two living in the house made it out and ran to their neighbors to call for help.
Dennis McKone, Salt Lake City Fire Dept.: "We received a call this morning at 1045 north on American Beauty Drive."
Minutes later, crews arrived. The house was engulfed, with flames shooting out of both sides. The two living at the home woke up just in time, and were able to get.
Dennis McKone, Salt Lake City Fire Dept.: "We did transport them to the hospital with minor smoke inhalation and 2nd degree burns, 2nd degree burns is like a severe sunburn."
But the family cat and dog didn't make it.
Dennis McKone, Salt Lake City Fire Dept.: "The house is pretty much gutted out."
The woman will be released from the hospital today. The man will stay until the weekend. He went back in to try and save the dog, he got burned on his face, shoulder and feet.
Across town, another fire in an apartment caused by a candle.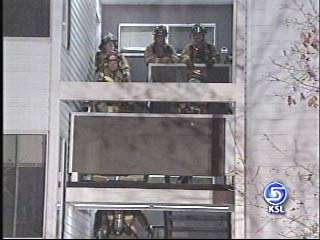 Steve Foote, South Salt Lake City Fire Dept.: "The mom getting child ready for bath, mom filling up bath tub, as quickly as that happened the candle tipped over and ignited the mattress product on fire."
Mom and baby escaped without injury. About 30 residents were evacuated.
Steve Foote, South Salt Lake City Fire Dept.: "Again we have to caution people over and over, please be careful with these candles."
At the apartment fire, crews were able to put the fire out quickly. Damage is estimated to be around 25-thousand dollars.
×