Estimated read time: 1-2 minutes
This archived news story is available only for your personal, non-commercial use. Information in the story may be outdated or superseded by additional information. Reading or replaying the story in its archived form does not constitute a republication of the story.
Jed Boal Reporting"It had her and wouldn't let go and started wrapping around her hand...it took a little doing but got her off."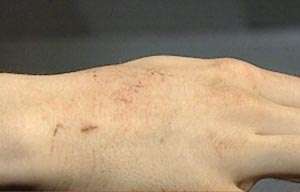 It was a wild day in Biology class at Valley High School when a Burmese Python acted up in class. If you don't like snakes, here's a story to make your skin crawl.
Biology Class at Valley High probably started off calmly enough, but before long one student found herself in a quite a struggle.
The biology teacher keeps a number of animals in the class, among them a couple of large snakes including a Burmese Python, that measures six feet long. The students take care of it and handle it some.
One 14-year old girl, who's handled the snake before, had it out of the tank and somehow bumped it on the nose in a sensitive spot, and it struck. It sank its fangs into the girl's hand between the thumb and forefinger.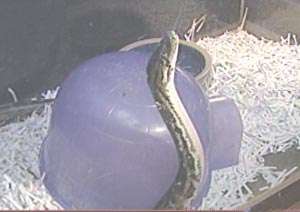 The python latched on, wrapped around the girl's arm, and started to squeeze. The teacher and students jumped in. The harder they pulled at the snake, the harder it hung on. But they managed to free the girl.
Don Link, Valley High School Principal: "It's very scary, if you've ever been bitten by a snake, even a small one. She was mostly frightened. She was not badly hurt at all."
Paramedics took a look at the girl, but she'll be OK. The girl iced the hand and was able to go back to class. The python went back to the tank.
×
More stories you may be interested in