Estimated read time: 2-3 minutes
This archived news story is available only for your personal, non-commercial use. Information in the story may be outdated or superseded by additional information. Reading or replaying the story in its archived form does not constitute a republication of the story.
Alex Cabrero reporting How many times have you wished your dog could talk?
One couple in Pleasant Grove sure does. "Axxa" (Ahk- sa) would have quite a story.
No food, no shelter, and no idea where she was. "Axxa" the German Shepherd had been roaming Northern Utah County for quite some time. But what's even more amazing than her survival, is how she made it home.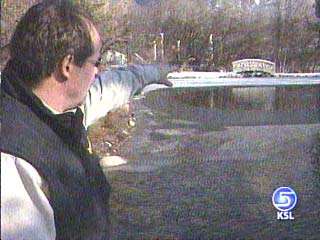 Usually ducks are the only animal swimming at a pond in Alpine. So imagine how John Johnson and Nick Gentry felt when they saw a dog there.
John Johnson, Rescued Dog: "She had broke through the ice, and was right over there."
Right in the middle of the pond, a German shepherd, running out of time.
John Johnson, Rescued Dog: "Her front paws were up on the ice, and her back paws were in the water. She couldn't get out."
She needed some help, and fast.
John Johnson, Rescued Dog: "I grabbed onto Nick's belt, and he stepped out onto the ice."
Nick Gentry, Rescued Dog: "I was just hoping the ice wasn't gonna break on me."
Gentry grabbed the dog, and brought it inside to keep it warm. Next, they called animal shelters to find out who was missing a German Shepherd.
John Johnson, Rescued Dog: "Everybody kept saying no, no, no we have no reports... Sorry."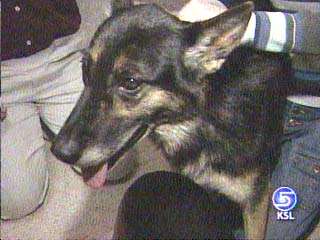 Not knowing what else to do, Johnson brought the dog to the Alpine-Highland police department to scan it. And wouldn't you know it, the dog had a microchip.
Wayne Hartwig, "Axxa's" Owner: "I was dumbfounded. I couldn't believe it."
It's a phone call the Hartwigs will never forget.
Kathleen Hartwig, "Axxa's" Owner: "I was just shocked. I thought, oh my goodness... What...where possibly could she have been?"
It's a question only Axxa herself can answer.
She made it about 20 miles away from her Pleasant Grove home. She was in the cold for two months. And you think cats have 9 lives.
Wayne Hartwig, "Axxa's" Owner: "Two months, and you just don't think you're gonna get your dog back."
Kathleen Hartwig, "Axxa's" Owner: "She remembers everything. Sleeps in her same spot she picked out before. It's like she's never been gone."
...which she might've been, if not for some guardian doggie angels.
John Johnson, Rescued Dog: "There is so many bad things happening all the time in this world with everything going on, and for something nice to happen, it was good being a part of it."
The veterinarian told the Hartwigs "Axxa" should make a full recovery. She's lost about 30 pounds during her adventure, but should soon be back to normal. The steak dinner she got last night should certainly help.
×
More stories you may be interested in