Estimated read time: 2-3 minutes
This archived news story is available only for your personal, non-commercial use. Information in the story may be outdated or superseded by additional information. Reading or replaying the story in its archived form does not constitute a republication of the story.
Coco Warner ReportingA Utah grand jury has indicted four members of the Brigham Young University football team on charges of aggravated sexual assault. Two other players face lesser charges.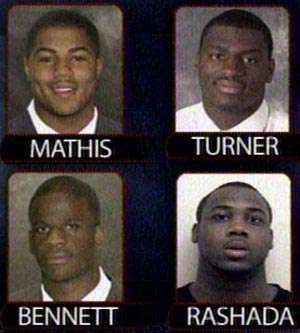 The Utah County Attorney's office felt that calling a Grand Jury in this case was its best option because of the number of defendants involved, and to lessen the impact for the victim.
Kay Bryson, Utah County Attorney: "With four defendants, preliminary hearing, a trial, it would necessitate possibly having her testify repeatedly, and we wanted to lessen the impact of this criminal prosecution on her."
For the first time in Utah County the County Attorney's office took advantage of a 15-year old statute and organized a grand jury to hear evidence regarding an alleged rape of a 17-year old girl. As a result of the proceedings, the Grand Jury handed down several indictments against suspended members of the BYU football team.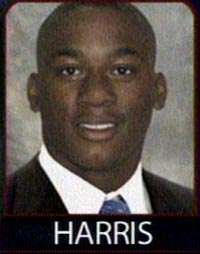 Freshmen Bryson Anthony Jerell Mathis, William Terrell Smitty Turner Jr., Karland Brushay Bennett and Ibrahim Amir Rashada have been charged with two counts of aggravated sexual assault, which are first degree felonies. They were also charged with dealing harmful material to a minor, furnishing alcohol to a minor and obstruction of justice.
Ibrahim Rashad was arrested by Provo police this morning. William Turner Jr.'s case is now being handled by the juvenile court. And the Provo police is working with authorities in Texas to secure B.J. Mathis and Karland Bennett.
Kay Bryson, Utah County Attorney: "The next step will be a felony first appearance once these individuals are in custody. And we don't know quite when that is going to happen with the two individuals who are currently out of state."
In addition, the Utah County attorney's office is charging BYU player Antwaun Harris with making a false or inconsistent material statement and BYU player Billy Skinner with dealing harmful material to a minor.
As a result of today's news, Brigham Young University has now re-opened its own honor code investigation.
The family of the victim also released a statement today thanking Brigham Young University and Provo police for how they've handled the case. They also say they are proud of their daughter for stepping forward.
The state grand jury is one possible explanation for why this investigation took so long. Grand Juries are extremely rare. Prosecutors use them to allow victims to testify in secret, the Elizabeth Smart case is another example. But it takes a long time to convene a state grand jury, and that could explain the delay.
×