Estimated read time: 2-3 minutes
This archived news story is available only for your personal, non-commercial use. Information in the story may be outdated or superseded by additional information. Reading or replaying the story in its archived form does not constitute a republication of the story.
Tonya Papanikolas ReportingAs we start seeing more snow, highway and wildlife experts say people need to be on the lookout for deer crossing the roads. The National Institute for Highway Safety says one and a half million American drivers are involved in car-deer accidents every year.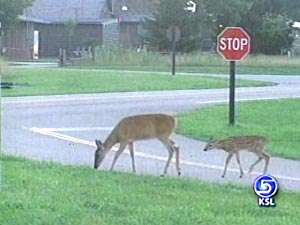 This is the time that people need to start thinking about deer crossings in the valleys. They like to come and feed in the early morning and from dusk into the evening. Those near highways, major roads, and less traveled areas can all see deer at unexpected moments. When the cold weather and snow hits, deer start making their way off the mountains.
Sgt. Scott White, Utah Division of Wildlife Resources: "Traditionally they move down to lower valleys to spend the winter where they can get the food easier."
That transition usually brings an increase in car crashes. Already Maaco Collision Repairs in Sandy is seeing the effects of deer collisions.
Robin Russell, Sandy Maaco Collision Owner: "We had three last week, and out of say 30 cars in a week, probably 10 percent of them are deer-oriented."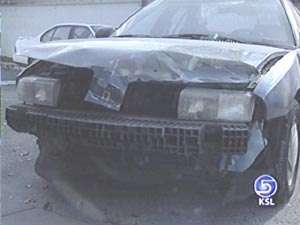 Today they were working on the hood of a car dented by a deer. The animal's hair was still in the headlight and the bumper was completely off. The repairs will cost $2600.
Robin Russell: "They can actually total a car quite easily, and really hurt people if they go in through the windshield."
Every year the state has more than 2,000 car crashes with wildlife. Last year Utah recorded 2007, down from more than 2200 the year before. This year's numbers aren't tallied yet, but fatalities are. So far, we've recorded seven deaths. Three of those fatalities happened in Parley's Canyon when an SUV carrying co-workers rolled after the driver swerved to miss a deer.
The National Institute for Highway Safety says most deer-related car crashes happen between October and December. Since many of the mountains are not completely covered with snow, wildlife experts say many of the problems this year are still to come. From here on out, deer won't just be in the mountains.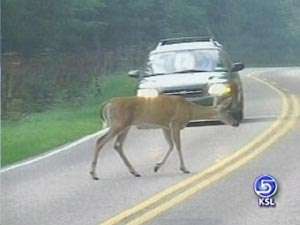 Sgt. Scott White, Utah Division of Wildlife Resources: "A deer can jump out just about anywhere. And what people need to do is obviously slow down when it's dark and be aware that you never know which way a deer is gonna run, even though it's on the side of the road."
Sgt. Shawn Judd, Utah Highway Patrol: "I would ask that people mentally prepare themselves, and definitely at freeway speeds, probably the last thing you're gonna want to do is swerve hard."
Nationwide, about half of all injuries from these kind of crashes result from swerving to hit the animal. So again, do not swerve. Also, buckle up, be aware of your surroundings, watch for deer-crossing signs, use your high beams if possible. And if you have anti-lock brakes, don't be afraid to use them if you see an animal ahead.
×