Estimated read time: 1-2 minutes
This archived news story is available only for your personal, non-commercial use. Information in the story may be outdated or superseded by additional information. Reading or replaying the story in its archived form does not constitute a republication of the story.
Sammy Linebaugh reporting Another house fire just weeks before Christmas. This one happened in South Salt Lake and forced five people out in into the cold.
Firefighters know the flames started near the fireplace, but they're still looking for an exact cause.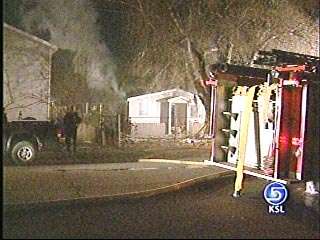 Firefighters had a tough time dousing the flames last night because the fire was in the walls of the building at 3443 S. 200 East, and quickly spread into the attic. In fact, fire crews called a second alarm shortly after arriving.
Five people live inside this house. All were able to get out safely before firefighters arrived.
Randy Flemming/ Resident: "I had a fire going on in the house. I went to lay down to go to bed and my roommate woke me up, or my mom woke me up and said there's smoke in the house."
Randy Flemming tells us he tried to put out the fire by pouring water on it. When that didn't work, he called 911. Firefighters were able to knock down the blaze within an hour and a half.
One firefighter was hurt. He was on a ladder. It was cold, a lot of the water turned to ice, and he apparently slipped. He was taken to the hospital as a precaution but will be okay.
Damage is estimated at 80-thousand dollars.
We should have an exact cause later today, but again it looks like the fire may have started by the fireplace. Another reminder to be cautious as the temperatures drop and we try to stay warm inside.
×