Estimated read time: 2-3 minutes
This archived news story is available only for your personal, non-commercial use. Information in the story may be outdated or superseded by additional information. Reading or replaying the story in its archived form does not constitute a republication of the story.
Sandra Yi ReportingSandra Turley: "He just seemed like a very normal guy. A young guy that had a lot of money."
Authorities in several states are on the lookout for a murder suspect, who has ties to Utah. It's a high-profile Arizona murder and police are searching for a suspect who may be near you. He bought a gun here last month.
Police have linked the crime in Arizona to a Utah man, Jason Derek Brown, who has lived in the Sugarhouse area. We've learned he also bought a gun and took a firearm class here in Utah, just weeks before the shooting.
Det. Tony Morales, Phoenix Police Dept.: "What we do know is that this is a very dangerous, violent individual. As you know, our victim was basically ambushed and in a cold-blooded manner, executed."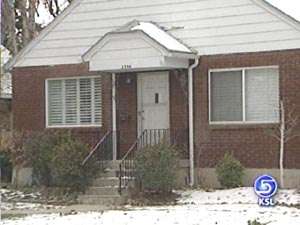 Phoenix police believe the murder was carefully planned out. On November 29th Robert Palomares, a 24-year old armored car guard was shot and killed as he walked out of an Arizona movie theatre, with a bag of money.
911 Tape: "The guy has been shot at least six times. I think he's dead. Shot most of the times in the head."
Physical evidence on a bike linked 35-year old Jason Derek Brown to the crime. Phoenix police say he had been staying at a local hotel. Just three weeks before the shooting Brown passed a background check and bought a 45-caliber handgun at a Kearns gun store. Two days later he completed a concealed weapon permit class at the same location.
W. Clark Aposhian, Firearms Instructor: "He said he needed to leave town and I think he indicated that he was going to go to Southern California."
Aposhian took a picture of Brown for the class.
W. Clark Aposhian: "I've taught thousands and thousands of people, and they've never committed such a crime. It's extremely disturbing to me that I would have even this loose of a connection with him."
Police believe Brown may have gone to California. His last known Utah address is a home in Sugarhouse. Neighbors say the home has sat empty for the past year, but they remember Brown as a nice guy with a lot of flashy toys. Sandra Turley's cousins knew him.
Sandra Turley: "It's just really odd to think that someone two doors down can be charged with murder. It would be a shock to anyone."
Police believe Brown is driving a black or silver, 2003 BMW, M3 with Utah license plate 1-4-8-M-F-L.
Police in Phoenix say Brown has had very minor domestic violence issues in California, but nothing as violent as murder.
×