Estimated read time: 2-3 minutes
This archived news story is available only for your personal, non-commercial use. Information in the story may be outdated or superseded by additional information. Reading or replaying the story in its archived form does not constitute a republication of the story.
Kim Johnson ReportingThey're a common sight in homes this time of year: Nutcrackers. And we typically think Germany is the home of this traditional art form, but Utah has its own master nutcracker maker.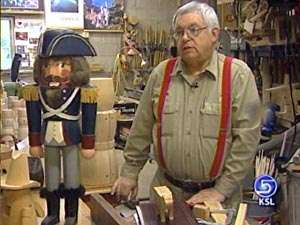 His name is John Bruce; he fell in love with wood as a young Cub Scout. Now he has an enviable woodshop in the back of his home in Draper, where he hones his knack for nutcrackers. John Bruce loves crafting wooden toys, but he admits he's nuts about nutcrackers.
John Bruce: "My heart is still with nutcrackers. Can't seem to get rid of them."
Even though Bruce lived in Germany for two years, Provo was the place where he found his passion for nutcrackers. But one of his nutcrackers resides in a German museum, and he says his work would please that country's master crafters.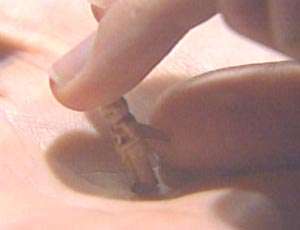 John Bruce, Nutcracker Craftsman: "Generally speaking, I would say the woodwork is at least comparable, if not a little bit better."
Bruce mostly sells his nutcrackers to decorative artists or toll-painters. His biggest client is a woman from Chicago. But he says he'll never mass produce.
John Bruce: "I was asked to make lower priced nutcrackers, higher volume, and I just somehow can't do it. When I'm cutting nutcrackers, I'll be working to tolerances of five-thousandths of an inch. That's what you'd expect of a machinist, but not for a woodworker."
Reporter: "So you're not exactly a speedy craftsman?"
John Bruce: "That's my worst enemy, being too meticulous and too slow."
Bruce can make just about any kind of nutcracker a customer asks for. He's particularly proud of his cowboy, with bare toes and boots in need of repair, and…
John Bruce: "What I call a "knot cracker". Every piece of wood in this thing has a knot in it. So even my rejects are beautiful."
His smallest nutcracker is only an inch tall. Someday he'd like to build the world's tallest, which would have to exceed nineteen feet.
John Bruce: "I still believe that I could do that, but it would be a bit more daunting of a task than I was imagining. If I found someone who could afford it, I would definitely go for it."
He made a scrooge nutcracker that was eight feet tall and sold it to a buyer in Washington State. It'll be fun to see if anyone commissions him to craft one more than 19 feet.
×