Estimated read time: 2-3 minutes
This archived news story is available only for your personal, non-commercial use. Information in the story may be outdated or superseded by additional information. Reading or replaying the story in its archived form does not constitute a republication of the story.
John Daley ReportingBattles over controversial big box retailer Wal-Mart are being fought on two fronts. Sandy residents are gathering signatures to block a new super Wal-Mart while in Centerville the planning commission is considering tough conditions on a new store there.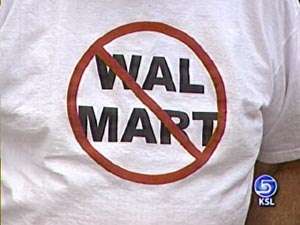 Communities all over the state--all over the nation--are grappling with the big impacts of big box stores. And an exclusive new Dan Jones poll for KSL-TV and the Deseret Morning News finds Utahns have conflicting feelings about this retail lightning rod.
In Sandy residents trying to stop a new super Wal-Mart find no shortage of citizens willing to sign a petition to put the issue on the ballot.
Steve Cyr, Sandy Resident: "It will increase the traffic considerably and surround us with more noise and activity. I just don't think it's a good idea."
Jeff Moore, Sandy Resident: "I just know that what I do know about Wal-Mart, I don't like. And I don't want one right here in my back yard."
Meantime, Centerville's showdown over the big box retailer--which would be built in the center of town--comes to a head tonight. Opponents took out a full page ad urging the planning commission to require Wal-Mart only be open from 7 a.m. to 11 p.m. rather than 24/7, and to restore the land to its previous state if Wal-Mart leaves.
Jean Jensen, Centerville Citizens First: "Bottom line, I'd like see them come up with some mitigations that are so protective of Centerville that Wal-Mart might decide it's not worth their time."
Steve Thacker, Centerville City Manager: "Theoretically, that's a possibility. If Wal-Mart is unwilling to meet all f the conditions that are imposed on them, then they would not have the authority to build."
The big box retailer inspires strong feelings, according to an exclusive new Dan Jones poll. We asked roughly 300 Utahns if they would support a Wal-Mart located near their home. 55% say yes, 38% say no.
We asked about important factors public officials should consider when looking to decide if a big box retailer should be allowed. 81% called a generation of new jobs important, 80% said tax revenues, and 76% said competitive prices were important factors.
But even higher numbers of those polled were concerned about negative impacts. 85% called local traffic noise and crime important, 89% said big box stores should be limited to commercial zones--near major roads, and 87% say big box retailers are bad for local businesses. Sandy residents have a month to gather roughly 9500 signatures.
And Centerville's planning commission will wrestle with the Wal-Mart issue at a meeting tonight. That's at 7 p.m. at Centerville City Hall.
×