Estimated read time: 3-4 minutes
This archived news story is available only for your personal, non-commercial use. Information in the story may be outdated or superseded by additional information. Reading or replaying the story in its archived form does not constitute a republication of the story.
Alex Cabrero Reporting"I did not desert my post. I was captured and held against my will by anti-coalition forces for 19 days." That's what Marine Corporal Wassef Ali Hassoun said in July. Today the Pentagon told a different story.
The Associated Press says Hassoun is being charged with desertion, larceny, and loss of military property. It's been a long, strange story for the West Jordan Marine.
Word came from the Pentagon Thursday afternoon. The usual family spokesperson for Cpl. Hassoun has not returned our phone calls yet, and that's probably because after everything that's happened, this is a complete shock to them.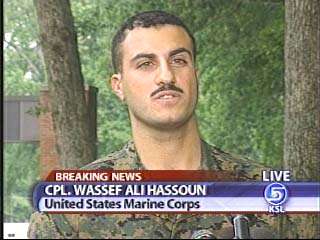 Hassoun is accused of taking unauthorized leave from the unit where he served as an Arabic interpreter. Hassoun also is charged with loss of government property and theft of a military firearm for allegedly leaving the Marine camp while still in possession of his 9 mm service pistol, as well as theft and wrongful appropriation of a government vehicle.
All along Hassoun has said he was held hostage by anti-coalition forces. Video of him being held hostage was shown across the world; his captors threatening to be-head him. This was in June.
Then, in July, he turned up at the US Embassy in Beirut, Lebanon. He claims his captors were sympathetic to him because of his Muslim beliefs, and let him go.
But just last month, US troops in Fallujah found several of Hassoun's personal items, including his passport, military ID, and uniform. The investigation into his disappearance was reopened and led to what happened today, his being charged with desertion.
A spokesperson for the Marines at Camp LeJeune, North Carolina, where Hassoun was based, says this case has been building way before that.
Maj. Matt Morgan, Spokesperson, Camp LeJeune: "Desertion is a relatively serious charge. It carries with a possible maximum penalty of a dishonorable discharge, forfeiture of pay and allowances, and a confinement in a military penetentiary for up to five years."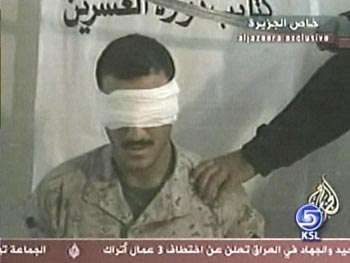 Again, Hassoun has claimed that's just not true and when we spoke with him this past summer, he wanted other Marines to know he was behind them 100 percent.
Cpl. Wassef Ali Hassoun, July, 2004: "I would like to tell all the marines as well as those who are serving in Iraq to keep their heads up and spirits high. Once a marine, always a marine. Semper fi."
Cpl Hassoun, who is still on active duty at Camp LaJeune in North Carolina, was last driving trucks for the Marine base.
No date has been set for an Article 32 hearing, one of the first steps toward a possible court-martial in the military justice system, Morgan said.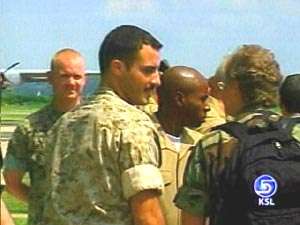 Hassoun is not in custody or confined to Camp Lejeune; he is working in the brigade motor pool. Morgan said he will continue to go about his normal duties, although he is considered to be non-deployable until the charges are resolved.
The desertion count carries a five-year maximum prison sentence and the other counts carry 10-year maximums. If convicted, Hassoun also could be dishonorably discharged and ordered to forfeit his pay and allowances.
(The Associated Press Contributed to this Report)
×
Most recent Utah stories