Estimated read time: 2-3 minutes
This archived news story is available only for your personal, non-commercial use. Information in the story may be outdated or superseded by additional information. Reading or replaying the story in its archived form does not constitute a republication of the story.
Shelley Osterloh ReportingAvalanche danger is high right now, a perfect time to unveil North America's first fully automated avalanche rescue training facility. The rescue training center in Little Cottonwood Canyon is free and open to public.
Each year about four or five people are killed in avalanches in Utah. Those who venture into back country should be prepared with three items: a transceiver that sends out a homing signal to another transceiver, a probe, and a shovel.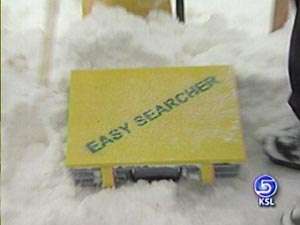 To survive being buried in an avalanche you need to be found and dug out in the first fifteen minutes. So it's critically important that your ski buddies know how to do it. Now anyone can improve their rescue skills on this hillside between Snowbird and Alta on a fully automated avalanche rescue training course. You can set the machine for an easy or difficult search for one to four victims. Then using your transceiver, begin to hone in on the buried target.
Manuel Genswein , Owner, Easy Searcher System: "I hold the transceiver at the snow surface and look for the smallest distance."
Dean Cardinale, Pres. Wasatch Backcountry Rescue: "This is the target that's under the snow. So when the probe comes down and strikes it, the sensitivity level is set in there to probe strike, and then it sounds the alarm and the light goes off."
Transceivers do save lives, but cost upwards of $200. Another device called the Recco costs only $20. It is a reflector that bounces back radar, but the tracking device is used only by professionals and often there is no time to call them. So experts say your first line of defense is to check conditions before you go, avoid unstable hillsides, and be prepared.
The system costs about $10,000 and was funded by through Wasatch Backcountry Rescue, a volunteer organization of snow safety professionals. The group plans to open another training course in Summit County.
×