Estimated read time: 2-3 minutes
This archived news story is available only for your personal, non-commercial use. Information in the story may be outdated or superseded by additional information. Reading or replaying the story in its archived form does not constitute a republication of the story.
Kimberly Houk ReportingMore bilingual special education teachers are needed in Utah's schools, but there aren't enough qualified people to fill the positions. One University is trying to combat the problem.
How about free tuition? It's what Brigham Young University is offering bilingual people who want to teach special ed. It's just one answer to filling classrooms with teachers who can understand and speak to the growing diversity of students in Utah's schools.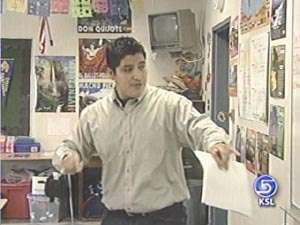 Hispanic teachers are a rare scene in Utah's schools, but it's a scene that many, like Kendra Birch, want to see become more common.
Kendra Birch, Provo: "It would be so much more helpful if someone spoke Spanish to help them learn what they need to learn in order to go on and be successful people."
Birch will be one of the first students enrolled in a new BYU program. Free education for those who will use their bilingual skills to help Utah's growing number of students who struggle with English.
Dr. Lynn Wilder, Brigham Young University: "The schools have a great need for the cultural knowledge they bring and the bilingualism that they bring, and the understanding that they have of the children."
Jose Enriquez: "There's kids that need role models. They need a face to say, hey you can do this, it's possible."
Jose Enriquez is one of only three Hispanic educators in the Provo School District. He looks daily into the eyes of many struggling students lost and confused. And Enriquez can't get to them all.
Jose Enriquez, Provo School District: "You see them come with no hope, and that's a frustration, because you know that they could if they could just see that. And I can't get to all of them and I wish I could. And that's why we need more."
BYU's new program will provide more bilingual special ed teachers. It's in separate classrooms that many students are sent when they can't communicate in English. And a free education may just do the trick to fill classrooms with more teachers like Birch.
Kendra Birch: "I realized that there's so many kids in special ed that speak Spanish now, that I could use both of my talents to help the students learn."
Those teachers are going to become even more important in years to come. Right now colleges are preparing about 17,000 Special Ed teachers a year. BYU's free program will pay for 32 new students a year.
×
Most recent Utah stories