Estimated read time: 2-3 minutes
This archived news story is available only for your personal, non-commercial use. Information in the story may be outdated or superseded by additional information. Reading or replaying the story in its archived form does not constitute a republication of the story.
Ed Yeates Reporting Wait until you see what new UTA buses have on them next year. Drivers will have help avoiding collisions with cars, people or standing objects through some rather remarkable devices installed on the side of each new bus.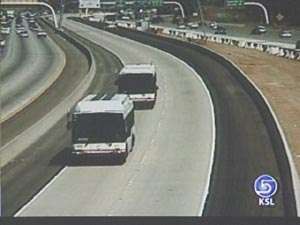 Imagine drivers of UTA buses being able to see easy to read lights in the rear view mirror, or feel a vibrating seat that alerts them to potential hazards outside. Though not here yet, new buses coming in next year will be equipped with collision avoidance systems, triggered by radar and sonar devices located around the bus.
John Inglish, UTA General Manager: "And it's coordinated with his actions. If he is traveling straight, nothing is going to happen. But if he starts to make a movement into an area where there's an automobile or pedestrian or some fixed object, these sensors will tell him he's too close and can't make that maneuver."
If the bus is turning right or left, the sensors automatically adjust for distance and speed, alerting the driver to a car or a cyclist hidden in a blind spot, or who suddenly appears from behind the bus. Future buses will also have front and rear collision warning devices.
John Inglish: "We should have systems that will actually be able to stop a bus and prevent an accident if an operator has not reacted quickly enough."
The devices are very sophisticated to safeguard the driver. But wait until you see what's on the horizon, when the driver can walk away from the wheel.
Driverless buses controlled by automatic sensing devices in the road and via global positioning satellites. An automatic system in Las Vegas now precisely guides a large all steering wheeled bus to a docking area within an inch of the curb. This bus is following another bus with a driver, like a train, with NO driver in the second bus.
John Inglish: "You can save anywhere from ten to twenty percent of the travel time from say from Magna to downtown Salt Lake City by using these kinds of systems."
Within the next two to five years, Inglish says UTA will have electronic fare cards where you buy time and distance on a card, then just flash it in front of a reader. No more fare box.
×