Estimated read time: 1-2 minutes
This archived news story is available only for your personal, non-commercial use. Information in the story may be outdated or superseded by additional information. Reading or replaying the story in its archived form does not constitute a republication of the story.
Carole Mikita ReportingMany families throughout our state are tonight celebrating the final night of the Jewish holiday of Hanukkah. The word Hanukkah means dedication. The holy day observances are based on what those of the Jewish faith say was a miracle that took place thousands of years ago.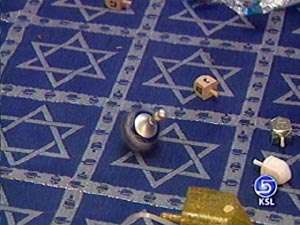 Each night of Hanukkah Jewish families the world over light a candle on their menorahs. It commemorates what they believe was an eight-day miracle. In 165 B.C., after years of battles with the Greeks, the Jewish warriors returned to the temple in Jerusalem but only had enough oil to light the menorah for one day. That oil lasted for eight.
Marjorie Janove, Celebrating Hanukkah: "The Hasmonian family were greatly outnumbered by the Greeks but they managed to defeat them and to reestablish the service in the temple and to reestablish their Jewish identity."
Besides the candle lighting, Hanukkah brings traditional foods cooked in oil. Another reminder of the miracle. Latkas or potatoes pancakes and the spinning game with a dreidel, it has Hebrew letters on each side. Those letters mean "A Great Miracle Happened Here"
Raphael Janove, celebrating Hanukkah: "What's really nice about Hanukkah to me is that at the same time I can celebrate how Jewish I am, but I'm still a part of American culture and this is not something that is separating me from my friends."
Hanukkah is also a time of gift giving -- eight days, eight presents.
Nathaniel Janove, Celebrating Hanukkah: "To me, it's just getting together and having a really great time."
In ancient times, olive oil was actually used in Hanukkah menorahs. Over time, colorful candles came into use.
×