Estimated read time: 1-2 minutes
This archived news story is available only for your personal, non-commercial use. Information in the story may be outdated or superseded by additional information. Reading or replaying the story in its archived form does not constitute a republication of the story.
John Daley ReportingThere's an important development to report tonight about one of Utah's most controversial companies. The man who founded and owns Envirocare, which disposes of low-level nuclear waste, plans to sell the company.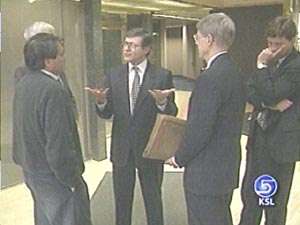 That man is Khosrow Semnani. He's a key figure in a series of ongoing fights about nuclear waste in Utah; many of those fights playing out on Capitol Hill. The perennial question, whether the state should accept more of it and more potentially dangerous kinds of it.
Semnani is a rags to riches story. An immigrant, he once was a janitor at the University of Utah, and went on to build Envirocare -- a waste dump, which handles lower levels of nuclear waste.
The facility has been controversial from the start because the waste comes almost exclusively from out of state and because there's been an on-going fight about whether Utah should accept waste that is much more radioactive.
Today the surprise announcement came that Semnani is selling to a New York investment group led by Lindsay Goldberg and Bessemer, that includes Creamer Investments and several other local investors. We have no information about how much the deal is worth, though presumably this will be quite lucrative for Semnani.
Dianne Nielson, Director, Dept. of Environmental Quality: "I think they have worked to be a good corporate citizen. They have been responsive when there have been problems. And the most controversial issues have been the issues of the waste streams that have been accepted here."
Jason Groenewold, Director, Healthy Environment Alliance of Utah: "Looks like what we're really seeing now is the question about who gets the liability long term? What does this new group want to do? Will they continue to push to bring hotter nuclear waste into the state?"
×
Most recent Utah stories