Estimated read time: 1-2 minutes
This archived news story is available only for your personal, non-commercial use. Information in the story may be outdated or superseded by additional information. Reading or replaying the story in its archived form does not constitute a republication of the story.
Kim Johnson ReportingChristmas came early for students at Lincoln Elementary in Salt Lake. Our cameras were rolling as the gifts were delivered to their classrooms. Employees of the Utah Central Credit Union delivered box after box of goodies and toys to eager bright eyed girls and boys.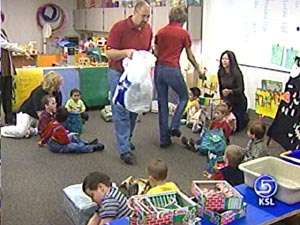 Mark Young, Utah Central Credit Union: "We've been buying gifts and wrapping and our members have been out shopping. And for the last three or four days it's been crazy trying to put all this stuff in boxes and make sure we have something for every kid."
Young says at first he thought the credit union would only be able to help some of Lincoln's needy families.
Mark Young: "We were looking for a few families, maybe 100 kids. And as we sat down and talked with them and found out that 93 percent of the kids lived in homes below the poverty line, we felt like we couldn't just pick a few kids or a few families. We had to try and help everyone."
Lincoln's students collectively speak seventeen languages; for many this will be their first American Christmas. Employees at the credit union say they're glad they're a part of it.
Mark Young: "Today when our employees get to come and see these kids and see their faces light up, it doesn't matter how much work you've done over the last few weeks. This is Christmas. This is what makes people get in the spirit and feel good about the community that they're a part of."
Besides giving the children some of their wishes, the credit union provided them with winter clothing, food, bedding and other necessities.
×