Estimated read time: 2-3 minutes
This archived news story is available only for your personal, non-commercial use. Information in the story may be outdated or superseded by additional information. Reading or replaying the story in its archived form does not constitute a republication of the story.
John Hollenhorst ReportingA construction crew in Coalville has uncovered the skeletons of four people and they've found evidence of a fifth. Although the identities of the bodies may never be known, experts believe they know why they were there.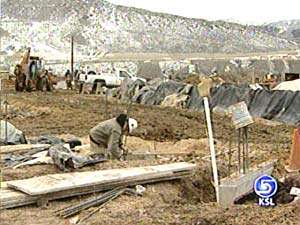 The North Summit Middle School is expanding so construction workers have been digging trenches. Last Friday they uncovered a surprise. A photo shows a nearly complete skeleton, an adult male still partially obscured by dirt. Monday Sheriff's deputies dug up three more sets of bones, an adolescent girl and two infants. A fifth skeleton is believed to be under the dirt still.
Experts believe the bones are quite old, but not Native American.
Steve Carlsen, School Superintendent: "The state forensic anthropologist has actually said they were more of a Scandinavian facial structure, and that type of thing."
Sheriff Dave Edmunds, Summit County: "She has assured us that they are all Caucasians and that they are older skeletal remains."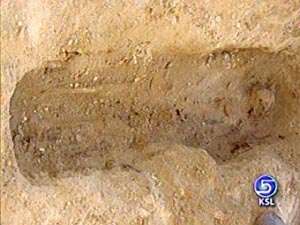 It's believed they're the remains of Mormon pioneers dating to the 1850's or 60's.
Sheriff Dave Edmunds: "You know, whether they were from here or just passing through, I don't know that we'll ever know that."
Most of Ccoalville's early pioneers are buried in the city cemetery. But old timers recall that originally, the cemetery was in a different location, right where the school is now.
Marvin Richins, Coalville Resident: "But they moved it and put it over the other way…I guess they wanted to build a schoolhouse or something here."
In that cemetery move nearly a century ago, some bodies were apparently left behind. Others were accidentally dug up in the 1960's. Marvin Richins has never minded living near the old graves.
Marvin Richins: "It's all right, don't hurt me. I've lived with them all the time here. They're good neighbors."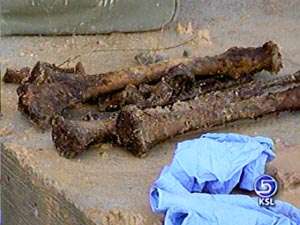 Officials hope to give the bones a proper re-burial in the official cemetery in the next couple of weeks. Remnants of pine caskets were found with the four skeletons. The apparent fifth skeleton is scheduled to be excavated Friday by a licensed archaeologist.
×
Most recent Utah stories