Estimated read time: 2-3 minutes
This archived news story is available only for your personal, non-commercial use. Information in the story may be outdated or superseded by additional information. Reading or replaying the story in its archived form does not constitute a republication of the story.
Ed Yeates ReportingThis week's Geminid meteor shower may have hit really close to home this time; how about in somebody's backyard in Salt Lake City. Clark Planetarium was out today with metal detectors, searching for a chunk that could have fallen early Tuesday morning.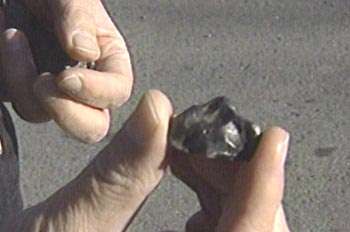 Meteorites of all shapes and sizes are on display at the Clark Planetarium. Unfortunately, none are from Utah. Perhaps that's why the Planetarium was more than eager to go searching for what could be a fallen space rock on the east side of Salt Lake. Clark Planetarium's Robert Bigelow was out this morning searching for what even he believes may be an elusive treasure.
Robert Bigelow, Clark Planetarium: "We have a credible witness who saw it land. I mean, most of the time you see this streak going across the sky and there's no way you can tell anywhere near close to where it landed."
That witness was KSL engineer Ken English who. 4:30 early Tuesday morning he was on his way to work along 9th east at about 3100 south.
Robert Bigelow: "And he saw what he described to us, a glowing object come down from the sky over here. Come down, come down through one of these trees. Saw some sparks come off and then he said it looked like it landed somewhere over in this area."
But somewhere is a big area to look for a small space rock.
Robert Bigelow: "Something like this or something even smaller. You can see, I mean these are really small. Some of them might even be pea size."
A small chunk would punch just a tiny hole in the ground, nothing like what happened two months ago when a two pound meteorite the size of a baseball dropped into a backyard near Denver, Colorado. But it's still interesting if a small piece fell from the Geminid shower somewhere here.
Robert Bigelow: "Most meteor showers come from comets, comet debris. But this one actually comes from an asteroid, asteroid patheon."
Incidentally, if a meteorite falls in your backyard, it's your meteorite. You decide what you want to do with it. The Planetarium of course would hope it would end up on display here.
×