Estimated read time: 2-3 minutes
This archived news story is available only for your personal, non-commercial use. Information in the story may be outdated or superseded by additional information. Reading or replaying the story in its archived form does not constitute a republication of the story.
Sandra Yi ReportingYour loved ones' final resting place may be a prime target for thieves. If you look around, there are a lot of beautiful holiday decorations out at the cemeteries. But they could be gone, tomorrow.
Burdell Wakefield: "People steal the wreaths and figurines and angels."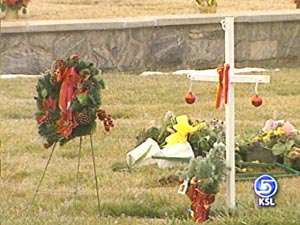 The holidays can bring out the best -- and, apparently, the worst, in people.
To some, cemeteries aren't so sacred. Thieves will swipe special mementos meant for loved ones.
Burdell Wakefield: "I don't understand why people steal that stuff."
Burdell Wakefield is the grounds manager for Lindquist Memorial Park. He says thieves will hit his cemeteries year-round. But it can be worse at Christmas.
Burdell Wakefield: "People grieve in different way, and they put something out that's important to them, you know. And even if it's a five dollar item, it means a lot to them. And if somebody steals it, I think it's pretty rotten."
And it's difficult to catch the culprits. Signs don't deter them.
Burdell Wakefield: "We see someone taking something off somebody's grave, we don't know if it's family members or whatever, so we have a hard time stopping them."
It's disheartening to hear for people like Laura Dyreng. She and her 10-year old son were visiting the grave of a friend who drowned this summer. They plan to come back with a little tree for the gravesite.
Laura Dyreng: "It would be heartbreaking because you already miss them and you're trying to do something to feel a little bit closer to them, and to have it be taken away, it would be that much sadder."
Sadly, the grounds manager says, if you put decorations on a gravesite, plan on losing it. He says try to not buy anything too expensive and don't put out anything you want to keep.
×