Estimated read time: 2-3 minutes
This archived news story is available only for your personal, non-commercial use. Information in the story may be outdated or superseded by additional information. Reading or replaying the story in its archived form does not constitute a republication of the story.
SALT LAKE CITY (AP) -- In her farewell address Wednesday night, Gov. Olene Walker urged the Legislature to pass tax policies that will provide greater financial stability to the state.
"We have presented a plan that will broaden the base and lower tax rates, which will make Utah a more desirable place to provide quality jobs while leveling the highs and lows of the economy," Walker said.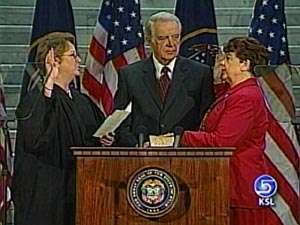 Walker, 74, became Utah's first female governor after she took over for former Gov. Mike Leavitt, who left the office to become the head of the federal Environmental Protection Agency in Nov. 2003.
"I marvel at how rapidly the last 14 months have flown by," Walker said in her speech from the Governor's Mansion.
In addition to her call for a new tax code, Walker devoted much of her final address to what may be remembered as the focus of her short term: education.
"We must recognize that quality jobs are only possible with outstanding education systems," she said. "The two will always go hand in hand together."
Walker counted securing the funds for a state reading program as one of her greatest accomplishments in the 2003 Legislative session. As governor she initiated a program to encourage adults to read to a child for at least 20 minutes each day.
She said the state must continue in its efforts to ensure every child masters basic education skills, as well as recognize the potential that comes from higher education.
"We must strengthen our universities and colleges so that quality jobs flow from ideas to job creation in order to meet the needs of our citizens," she said.
In her roughly ten minute speech, Walker thanked her family and staff and recalled some of the most memorable moments of her term.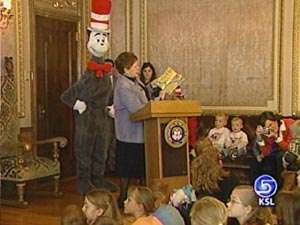 "I shall miss the sleepovers with my grandchildren at the Mansion, the invitations to come to your schools and the suggestions you have given on how to be a better governor," she said.
"Yes, I leave the governorship with wonderful memories, but I also leave with the strong conviction that the future of Utah is secure because of the people who live here," Walker said.
Before becoming the state's 15th governor, Walker served as the lieutenant governor for 11 years under Leavitt. She lost her bid for a second term at the state Republican convention.
Walker holds bachelor's, master's and doctorate degrees from Brigham Young, Stanford and the University of Utah, respectively.
From 1981 to 1989, Walker served as a member of the Utah House of Representatives, including a term as assistant majority whip and majority whip.
From 1969 to 1992, she served as the vice president of a family business, Country Crisp Foods.
She and her husband, Myron Walker, have been married 50 years. She is the mother of seven children and has 25 grandchildren.
Utah's Gov.-elect Jon M. Huntsman Jr. will take the oath of office on Jan. 3.
(Copyright 2004 by The Associated Press. All Rights Reserved.)
×
Most recent Utah stories