Estimated read time: 2-3 minutes
This archived news story is available only for your personal, non-commercial use. Information in the story may be outdated or superseded by additional information. Reading or replaying the story in its archived form does not constitute a republication of the story.
Keith McCord ReportingWe all do it when we're in need of a snack -- we'll often go looking for a vending machine. A candy bar and a soda, and we're off and running again! Well, with that in mind, a Utah man has come us with a unique idea that he hopes will catch on.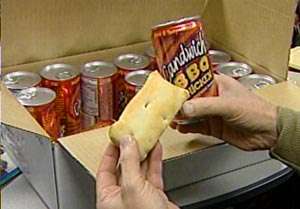 We have the basic stuff, Cokes, Pepsi's, juices, chips, candy bars, and in the near future, who knows, we might have some of these-- the "Candwich". Yep, it's really a sandwich in a can!
It's the holidays and everybody's eating! Looking around our newsroom there are goodies everywhere-- candy, caramel corn. On one desk, someone's eating a slice of pizza; Ed Yeates is working on a burger, and John Hollenhorst is getting his first taste of a Bar-B-Q Chicken "Candwich"!
We'll get back to John in a minute. The "Candwich" was invented by Mark Kirkland; he hopes to roll it out on the market in the next couple of months.
Mark Kirkland, President, Candwich Food Corp.: "Bar-B-Q Chicken and pepperoni pizza, that will be followed shortly by French toast and apple turnover, bacon cheddar."
Here's the beauty of the Candwich, it's the same size as a regular drink can so it's vending machine friendly. Kirkland hopes to work out deals with vendors to include the Canned Sandwiches on their normal routes.
Mark Kirkland, President, Candwich Food Corp.: "But I think that's part of the beauty of the concept, is the infrastructure is in place and we're just introducing into an existing distribution system."
The "Candwichs" are produced at a plant in Florida. It's all automated and can generate as many as 2000 cases a day, USDA approved. Mark Kirkland says because of its long shelf-life, the product is perfect for camping, hiking, military and emergency uses, for anyone in a hurry!
Mark Kirkland, President, Candwich Food Corp.: "It's a great emergency food because you can ship it anywhere there's an emergency. You can take it off an airplane, hand it to a person and they can start eating."
Or give one to a busy reporter....
John Hollenhorst: "You know, it's not as bad as I expected. I mean, if I was lost in the wilderness, I'd be glad to have a couple of these."
The Candwich will first be launched in Utah and Florida in the next couple of months. And down the road, other flavors will include Nacho Cheese Beef Stick and Peanut Butter and Jelly sandwiches.
×