Estimated read time: Less than a minute
This archived news story is available only for your personal, non-commercial use. Information in the story may be outdated or superseded by additional information. Reading or replaying the story in its archived form does not constitute a republication of the story.
(KSL News) The cold weather is posing a hazard for Utah drivers.
Police and state troopers were busy all night responding to crashes on the Wastach Front. One of the worst was a four car pile-up on I-15 at 6200 South.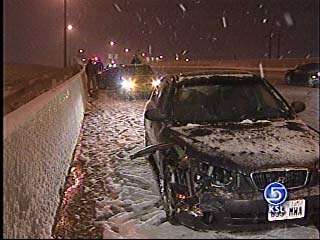 Highway Patrol says the drivers lost control and slammed into one another around 11:30 last night. UHP says drivers are being more careful, but just not careful enough.
Trooper Thomas Decarlo/ Utah Highway Patrol: "Be aware that when it does snow, and it melts and we get this freezing condition out here, we get a lot of black ice and a lot of hazards you're unaware of while you're driving."
Authorities say last night was much worse than Tuesday night. State troopers say they saw more accidents involving more vehicles.
×