Estimated read time: 2-3 minutes
This archived news story is available only for your personal, non-commercial use. Information in the story may be outdated or superseded by additional information. Reading or replaying the story in its archived form does not constitute a republication of the story.
Shelley Osterloh Reporting'Tis the season for many people to be sick, but most health clinics are so busy you may wait a half hour or more before you can see the doctor. One clinic in South Jordan has found way to almost eliminate waiting. It's the only clinic of its kind in the country, and is a model others are likely to follow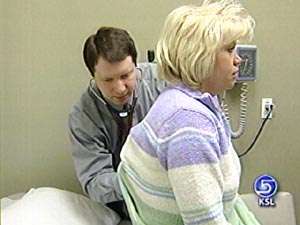 Joy Nelson is a busy working mom with little time to waste waiting in a doctor's office, so she has come to the South Jordan Health Clinic --- the country's first fast track health clinic. Within minutes of walking in the door, she sees a medical assistant who starts her care immediately.
Curtis C. Newman, J.D., RN, Clinic Director: "We have our staff trained in all of the major areas, so one person stays with the patient the whole time."
A medical assistant can do x-rays, draw blood or do lab work. Another unique time saving improvement -- a computer program that not only has her medical history, but a series of key questions for each problem, an efficient way of gathering information for the doctor.
Doctors say this system makes better use of their time and improves quality of care.
David Owen, MD: "In the past, much of that time was spent charting and filling out paper work and doing various other things. But now because all of that is done by the medical assistants before we come in, most of that time we can spend just one on one interacting with the patient."
And patients like Joy like it. She even left a doctor she'd seen for 15 years to change clinics and doctors.
Joy Nelson, Clinic Patient: "I would dare say i was probably out here two minutes. No waiting time at all, and I like that."
This clinic is likely a prototype for the future of health care. This is an idea that may spread across the country. The University of Utah will present this clinic model at a national conference of the American Medical Group Association early next year.
×