Estimated read time: 2-3 minutes
This archived news story is available only for your personal, non-commercial use. Information in the story may be outdated or superseded by additional information. Reading or replaying the story in its archived form does not constitute a republication of the story.
Ed Yeates ReportingA blind 17-year-old teenager from Layton had his sight restored for the first time, even though it lasted only a few weeks. Now he hopes what he experienced temporarily may become permanent within the next 15 years.
His name is MaCaryne Biggers, but his friends call him Mac, the gentle giant. He's been blind since birth, doing things through feel and touch.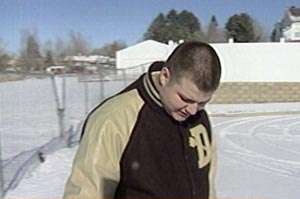 Watching Mac walk his dog, you wouldn't know he's blind. But he is. Images are extremely foggy, cloudy. The shadow of a tree looks more like a hole in the ground.
Despite the blindness, he's on the wrestling team at Davis High School. A rendition of Mac wrestling Cody King, one of his friends from Clearfield, is on the back of his new letter jacket. Football players at Davis picked him as their team manager. He carried the torch in the Paraolympic games. Mac's life is full, but became even richer a couple of months ago when after a corneal transplant, he saw his mother for the first time.
Mac: "It was when I first saw my mom. I was just amazed because I was able to see my parents and be able to tell what they look like."
Trudie Biggers, Mac's Mother: "'I can see what you look like. I can really see your face.' And he came up and touched my face and I just broke down and cried."
Mac's sight lasted only several weeks. That's because his body doesn't make enough stem cells to replace cells which naturally sluff away, as they do with all of us. But seeing faces, needles on a pine tree, mountains and snow - if only for while - has given this high school senior and his parents hope about what may be possible in ten to fifteen years.
Trudie: "Provide us with something maybe like an eye drop that he can deliver stem cells directly into his eye several times a day, or whatever is necessary."
Mac: "It's bad right now, but I've seen how good it can get, so I kind of have hope for the future that it will get better."
Meanwhile, Mac keeps embracing life. His response when asked how he's doing? "The eyes are still struggling, but I'm not!"
Doctors transplanted the cornea in only one of Mac's eyes, his worst one, to see how well it would work. With stem cell replacement, the corneas would hold up well.
×