Estimated read time: 2-3 minutes
This archived news story is available only for your personal, non-commercial use. Information in the story may be outdated or superseded by additional information. Reading or replaying the story in its archived form does not constitute a republication of the story.
Sandra Yi ReportingThe Utah Highway Patrol says a drunk driver caused a three car crash near Tooele yesterday, killing a South Jordan man. The driver may now face vehicular homicide charges. UHP is trying to prevent another tragedy like that one this holiday.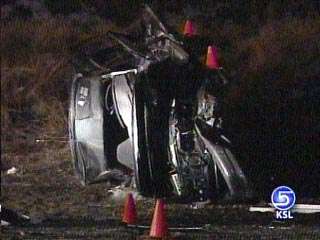 Summit County authorities will be out in force, looking for drunk drivers. Their message this holiday is that it's ok to celebrate, but it's not ok to drive drunk.
Sheriff Dave Edmunds hopes the mission to save lives is sobering.
Dave Edmunds, Summit County Sheriff: "We're really looking to take a bite out of inebriated drivers during the holiday season."
Tonight more than a dozen law enforcement officers will saturate Summit County roads, targeting drunk drivers.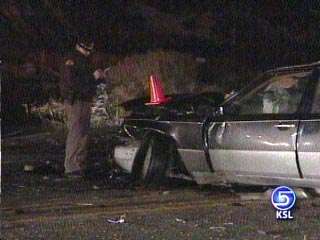 Dave Edmunds: "What we're doing also is sending a message that throughout the holiday season, we're going to be out in force."
Edmunds says too many people choose to drink and drive during the holidays, and all too often it ends in tragedy.
Dave Edmunds: "When DUI drivers strike other drivers, many many times it results in fatality."
That's what happened last night on State Road 201, near Tooele. The Utah Highway Patrol says 41-year old Jackson Grondahl was driving drunk. He crossed the center line and slammed into a Ford Bronco, killing the driver, 51-year Brian McKane, and injuring two passengers.
Lt. Steve Myer, Utah Highway Patrol: "Pretty violent crash. The vehicle actually spun, almost immediately was hit twice by the Ford Bronco, two different times."
Authorities hope to prevent such tragedies. They say Utah has the lowest number of DUIs and they want to keep it that way.
Dave Edmunds: "It's important to note that even after one drink, impairment begins."
That DUI saturation begins tonight at 9:00. It's a cooperative effort along with Park City and UHP. They will focus on S-R 224 and S-R 248, the two main roads leading in and out of Park City.
×
Most recent Utah stories