Estimated read time: 1-2 minutes
This archived news story is available only for your personal, non-commercial use. Information in the story may be outdated or superseded by additional information. Reading or replaying the story in its archived form does not constitute a republication of the story.
Amanda Butterfield reporting Millions of gallons of water spilled from a split water line on Salt Lake City's West side overnight.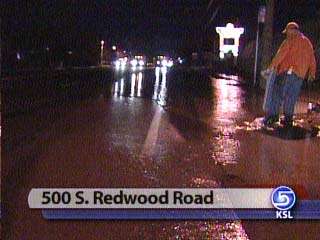 The water main break closed Redwood Road for hours. No one was hurt, but it is a mess.
Utility crews have been out fixing the break since early Thursday morning.
A 12 inch main line on the west side of 500 S. Redwood Road split just after 4 Thursday morning. About 500-thousand gallons of water gushed onto the street.
The likely cause: the weather.
Robert Wallin, Salt Lake City Public Utlities:"It gets real cold, and gets warm, and the ground swells and shrinks, and causes main breaks like this one."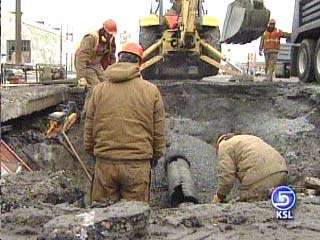 At least one business was flooded. Water pumps and sandbags were brought in to stop the flow.
John Grande, Utah Ornamental and Iron: "We're low, so it filled up the back of our shop, about 10 inches of water, so it's filled all the way to the back."
Grande says this isn't the first time Utah Ornamental and Iron has had water troubles.
John Grande:"We've been here for 45 years, and it's happened a few other times."
It took several hours to get rid of the water, and get rid of the split pipe. It will be replaced with a blue plastic one.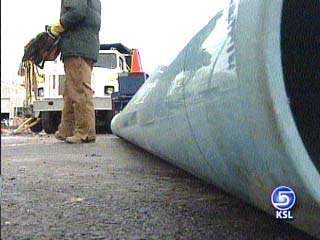 "This will expand and contract."
So the next big change in weather, the water will stay where it belongs.
Employees with Salt Lake City Public Utilities say because the asphalt is so thick where the water pipe broke, there was little danger of the road washing away.
Crews should be finished with the repairs early this afternoon, but the section of road affected may not be completely open for a couple of days.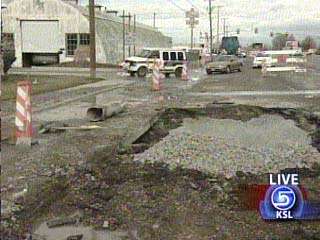 ×