Estimated read time: 1-2 minutes
This archived news story is available only for your personal, non-commercial use. Information in the story may be outdated or superseded by additional information. Reading or replaying the story in its archived form does not constitute a republication of the story.
Alex Cabrero ReportingIt's almost unimaginable, 125,000 dead, and that could increase. Fortunately, there are survivors-- one of them from Davis County. Now he's staying to help.
Shellie Young: "It was just a very sweet and tender love letter."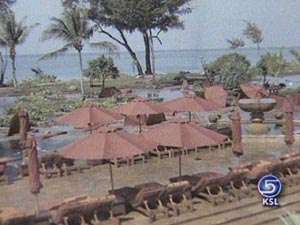 Even with family in town, Shellie Young still felt alone this Christmas. For the first time in her 31-year marriage, her husband had to be away on business during the Holiday. Thank goodness for e-mail.
But she never expected this Christmas to be so memorable.
Shellie Young: "And then there's this break in the email, and he said, 'Wow, we just had an earthquake.'"
Her husband, Seldon, was in Thailand right when Mother Nature made her move.
Shellie Young: "He was eating breakfast in his hotel room and said he heard people running and screaming. And he looked out the window and the tsunami came over the concrete barrier wall and slammed the people who were in the swimming pool."
He emailed pictures to his wife of what used to be the swimming pool and his hotel. But there is no picture for what was really going on.
Shellie Young: "He said the island is in chaos."
So far 125,000 people are dead, and that will probably increase. Right now, Young says he may return home next week, but if he's still needed it could be longer. Most of all, Young says the people out there need financial assistance because almost everything they had is gone.
×