Estimated read time: 2-3 minutes
This archived news story is available only for your personal, non-commercial use. Information in the story may be outdated or superseded by additional information. Reading or replaying the story in its archived form does not constitute a republication of the story.
TEMPE, Ariz. (AP) -- Unpredictable, unstoppable, and unbeaten. Oh yes, Utah deserved to play in a BCS bowl.
The fifth-ranked Utes, behind the cool efficiency of Alex Smith, used their baffling spread offense and an underrated defense to dominate 19th-ranked Pittsburgh 35-7 in the Fiesta Bowl on Saturday night.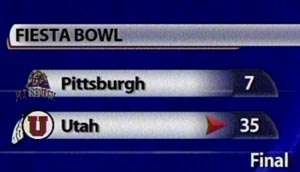 Smith completed 29 of 37 passes, four of them for touchdowns, for 328 yards and the Utes sacked Pitt's Tyler Palko nine times, a Fiesta Bowl record.
Smith, a Heisman Trophy finalist who is considering going to the NFL after this, his junior, season, also rushed 15 times for 68 yards.
Paris Warren caught 15 passes, breaking the Fiesta record of 11 set by Kellen Winslow of Miami in the 2003 national championship loss to Ohio State.
Warren, who transferred from Oregon in 2002, had 198 yards receiving, third-most in Fiesta Bowl history. Smith's 78 percent completion rate was also a Fiesta Bowl mark.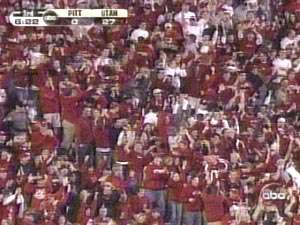 Coach Urban Meyer punctuated two memorable years in Salt Lake City with the Utes' first unbeaten, untied season since 1930. He leaves for Florida after making Utah the first team from outside the six BCS conferences to force its way into a Bowl Championship Series game.
And the tens of thousands of Utah fans who made up at least three-fourths of the sellout crowd of 73,519 were not disappointed.
Utah (12-0) scored touchdowns on five of its first seven possessions, including all three in the third quarter.
Out of a dizzying array of formations, the Mountain West Conference champs kept the Panthers off balance all night with everything from option plays to a handful of shovel passes. The Utes scored one touchdown on a reverse and another on the old "hook-and-ladder" play.
On that play, Smith threw to Steve Savoy, who flipped the ball to Warren. Warren dashed 18 yards for the score, capping a 10-play, 94-yard drive, to put the Utes up 35-7 with 25 seconds left in the third quarter.
Pitt (8-4) was overmatched in its final game under coach Walt Harris, who is leaving for Stanford after eight seasons with the Panthers. Pittsburgh was the unwanted team among the eight BCS squads. The Panthers automatically qualified for one of the four elite games as Big East champions, even though they were only 21st in the BCS rankings.
As the BCS buster with a huge following, Utah was welcomed by the Fiesta Bowl organizers, but they had no choice but to invite Pitt as the opponent.
(Copyright 2005 by The Associated Press. All Rights Reserved.)
×
Most recent Utah stories