Estimated read time: 2-3 minutes
This archived news story is available only for your personal, non-commercial use. Information in the story may be outdated or superseded by additional information. Reading or replaying the story in its archived form does not constitute a republication of the story.
Sandra Yi ReportingPolice say the couple who died in a murder-suicide last night had a history of domestic violence. The victim had a protective order against her ex-husband.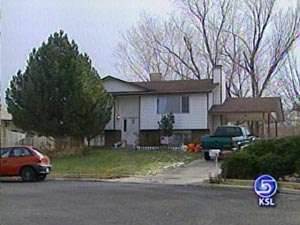 The protective order was in effect yesterday, but police say she apparently felt comfortable going to the home. Last night her visit turned deadly in front of their children.
Wendy Doxey, Neighbor: "I am surprised and taken aback, but not completely shocked."
A man shot and killed his ex-wife, then turned the gun on himself, as their two daughters, ages 9 and 12, sat in the car.
Wendy Doxey: "Their mom was getting out of the car and the dad came down with a gun. I don't think they saw much, but they heard what was going on, and as soon as things were quiet, they made a run for it over here."
Wendy Doxey heard screaming and four to five gunshots. Her friend, 43-year old Theresa Leiva-Fuentes, had been shot multiple times in the head and chest at close range.
Wendy Doxey: "She'd been wanting to get away from him for a long time and finally got out, away from him for several months. And now he got to her anyway."
Investigators say the victim went to her ex-husband's home last night to drop off items for their teenage son. The couple argued just before the shooting. Police say the son tried to save his mother's life.
Lt. Bill Froehlich, West Valley City Police Dept.: "From what I understand, he was trying to administer CPR to the mother, which was unsuccessful."
The couple had a history of domestic violence. Officers went to the home in June when 49-year old Hector Leiva-Fuentes threatened to shoot his ex-wife and their kids. The victim then got a protective order against him. Neighbors say she moved out a few months ago in hopes of starting a new life. Police say she had remarried, just four days before Christmas.
Wendy Doxey: "It's really sad that things were on a good note, in a good direction, and things are really not, so it's too bad."
A fourth child was not at the scene yesterday. The Department of Child and Family Services says all four of the couple's kids, ages 9 to 17, are staying in a shelter and getting counseling.
This is the first murder of the new year.
×
Most recent Utah stories