Estimated read time: 2-3 minutes
This archived news story is available only for your personal, non-commercial use. Information in the story may be outdated or superseded by additional information. Reading or replaying the story in its archived form does not constitute a republication of the story.
Jed Boal ReportingA top UN official describes the international response to the tsunami as "phenomenal." But getting help to all the affected areas is a "logistical nightmare", tens of thousands of people still have received no relief.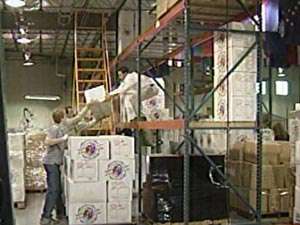 Across south Asia soldiers, relief workers and volunteers are delivering food, clothing and medical supplies to the tsunami victims. That lifeline starts in communities like ours as people pitch in.
A Sandy clothing company accustomed to outfitting tourists on sunny vacations will send shirts where the people really need them.
Paul Fulton, Del Sol: "You've seen the devastation that's taken place. They're left with nothing."
Del Sol will donate nearly a half-million dollars worth of t-shirts and sandals, merchandise with minor flaws.
Paul Fulton/Del Sol: "Give them clothes to wear, give them something they can put on in the evenings. That's how we think we can affect a broad group of about 25,000 people."
The Church of Jesus Christ of Latter-day Saints will send it off with other goods.
Globus Relief is another local organization well-positioned to help out in a disaster like this. They have critical supplies that will soon be on their way to the people who need them.
Darlyn Eddington, Globus Relief: "We are sending critical needed things, vitamins and medical supplies."
Globus Relief buys and receives surplus medical supplies. Donations from the community will enable Globus to send vitamins and protein shakes to India, Indonesia and Sri Lanka
Darlyn Eddington, Globus Relief: "Vitamins and antioxidants are the things that help the body resist disease."
Charity partners already on the ground in those countries will get the supplies to the people.
Darlyn Eddington, Globus Relief: "These products are the things that are going to best help the people in the long run."
The local chapter of the Red Cross says giving here has been generous. The best way to help is to give money to a qualified charity you feel comfortable with. Look for the link to a long list at the top of this story.
×
Most recent Utah stories