Estimated read time: 2-3 minutes
This archived news story is available only for your personal, non-commercial use. Information in the story may be outdated or superseded by additional information. Reading or replaying the story in its archived form does not constitute a republication of the story.
Sam Penrod ReportingThe BYU football players accused of rape will have to wait six more months before their case will go to trial. Today a judge set a trial date for the end of June. It's a case that has been making headlines, ever since the allegations surfaced back in August.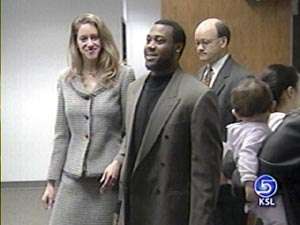 The trial won't be until the summer; it's scheduled to take at least seven days, beginning June 27th. But between now and then we can expect the defense to try to shake up the prosecution's case.
Surrounded by family and numerous supporters, Ibrahim Rashada left court today encouraged that he can begin to fight the criminal charges that could send him to prison for the rest of his life.
Ibrahim Rashada, Defendant: "It's finally here and to hurry and get it over with so I can move on with my life."
Ibrahim Rashada is one of four former BYU football players accused of giving alcohol to a 17-year old girl, showing her a pornographic movie, and then raping her in an off-campus apartment. Defense attorneys are just beginning to sort through all of the evidence that prosecutors plan to use at trial, and plan to file numerous motions challenging some of that evidence.
Rhome Zabriskie, Attorney for Ibrahim Rashada: "We're not at liberty to discuss that. It goes to the defense strategy. But there are some motions we plan to file before trial."
For now Rashada, BJ Mathis, and Karland Bennett will all be tried together, but at least one attorney may ask for separate trials.
Greg Skordas, Attorney for Karland Bennett: "I think the defendants may want their counts severed, I'm not sure the grand jury proceedings were done correctly. We certainly will want the court to allow us a preliminary hearing in this case, and hopefully we'll be able to go to trial by the end of June."
For prosecutors who spent four months investigating the case before taking it to a grand jury for indictments, they are prepared to wait six more months to take their case to trial.
Donna Kelly, Prosecutor: "We're anxious for the defendants to have a fair trial; so we think it's appropriate that they have a long time to prepare. This is a complicated case with a lot of defendants."
The three players indicted in the case all remain free on bail. Karland Bennett and BJ Mathis were not required to be in court today. Their next court date, a pre-trial hearing, is scheduled for May.
×
Most recent Utah stories