Estimated read time: 2-3 minutes
This archived news story is available only for your personal, non-commercial use. Information in the story may be outdated or superseded by additional information. Reading or replaying the story in its archived form does not constitute a republication of the story.
Richard Piatt ReportingGov. Jon Huntsman unveiled a radically redrawn cabinet today, replacing most state agency directors who served during the last 12 years.
A new administration means new goals and new people in state government. These appointments and re-appointments are the first step toward the Governor getting his agenda on track. Leadership now takes center stage for Governor Huntsman. The people surrounding him are a mix of returning and brand new people who, he says, will help make his vision a reality.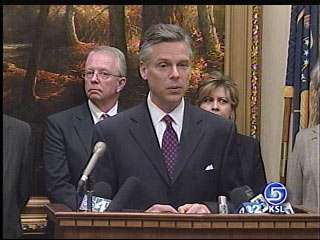 Gov. Huntsman: "They all will represent changes in policy. If they don't represent changes in policy then I wouldn't have signed them on in the first place."
Among the selections for the Huntsman cabinet: ex-Senator Leonard Blackham as Commissioner of Agriculture, and former representative Mike Styler as executive of Natural Resources. In addition to their new positions, both will likely play a role as a liaison between the new administration and the Legislature.
Huntsman picked the politically loyal ex-county councilman Russell Skousen as Executive Director of Commerce. In a more drastic move, Economic Development will now be accountable directly to his office, headed up by staffer Chris Rybal. Community and Arts is now a separate department, headed up by Sylvia Haro.
Huntsman appointed Doctor David Sundwall, a physician with a list of government and policy experience, to take on medicaid challenges, among other things.
David Sundwall, State Department of Health: "There's more need than we can ever meet. So it's going to take a lot of wisdom and working with the legislature."
Two top positions are still unfilled in Human Services and in Workforce Services. The rest of his cabinet is on the job, and working for the Huntsman administration.
Huntsman also formed the non-profit Utah Policy Partnership to keep his transition team in place and his agenda on track.
×
Most recent Utah stories