Estimated read time: 2-3 minutes
This archived news story is available only for your personal, non-commercial use. Information in the story may be outdated or superseded by additional information. Reading or replaying the story in its archived form does not constitute a republication of the story.
Sandra Yi ReportingDeputies made a major forgery bust in Davis County and arrested three men. One suspect may have stolen personal information from customers of a genealogy website.
Investigators say one suspect was working out of the business in North Salt Lake. They say, because it's an internet-based service, there could be up to 100 victims worldwide. Deputies put the brakes on the forgery ring after a traffic stop in North Salt Lake Sunday night.
Lt. Brad Wilcox, Davis County Sheriff's Office: "That led them to what appeared to be a disassembled or partially disassembled meth lab in the vehicle."
The driver, Alfred Fletcher, and his passenger, Wesley Smith, had false IDs. Both were wanted on warrants for drugs and forgery. The investigation eventually led drug agents to the site of Heritage Creation, an internet-based genealogy service. There authorities arrested Leland Meitzler, the owner's son.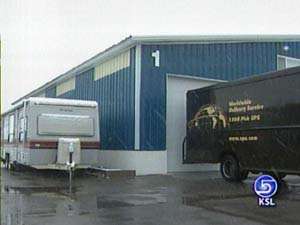 Lt. Brad Wilcox: "It appears that the two parties in the car were in fact doing business with Leland, either drugs or a combination of forgery devices."
Investigators say Meitzler would take clients' credit card numbers, then doctor them with personal information. He allegedly sold that information for drugs.
Leland K. Meitzler's Father: "Anybody that's a father of a meth addict isn't shocked by anything."
Meitzer says his son has a drug problem, but didn't know his son was allegedly involved in identity theft. He says his company's passwords were protected, but his son somehow got by them. Meitzler believes whatever his son was up to, authorities stopped it in time.
Leland K. Meitzler's Father, Heritage Creation Owner: "We just know that the materials were on hand to do something with our credit card, they could have."
Meitzler says he hasn't heard from any clients who may have been victimized. The company plans to send a mass mailing to let them know what happened.
Leland K. Meitzler's Father: "We don't want anybody to lose anything out of this, just because my son got involved in something he should have not."
The three face multiple charges. The FBI is involved, as the suspects could be prosecuted federally.
×
Most recent Utah stories