Estimated read time: 2-3 minutes
This archived news story is available only for your personal, non-commercial use. Information in the story may be outdated or superseded by additional information. Reading or replaying the story in its archived form does not constitute a republication of the story.
Carole Mikita ReportingA celebrated British organist is in Salt Lake to perform in the LDS Conference Center this weekend. Dr. Stephen Cleobury is considered one of the world's finest organists; he is a recording artist, associated with King's College, Cambridge, and the BBC.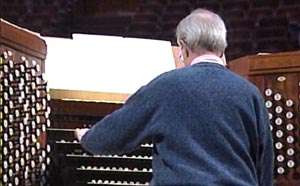 Few musicians fall into the category of world class. Stephen Cleobury is Britain's best and then some, now performing in an immense hall on an impressive instrument.
Dr. Stephen Cleobury: "I think the organ is a very intriguing instrument for audiences, and particularly here it's very good because the console is right out in full view and everybody can see exactly what the organist is doing. Quite often he or she is hidden away in a loft and nobody knows what's happening."
The audience will watch his nimble fingers and snappy pedal work. The American Guild of Organists, Salt Lake Chapter and Dr. Craig Jessop, who conducted with him in Lincoln Cathedral a few years ago, invited him.
Dr. Stephen Cleobury: "And we got talking and he found out I'd never been to Salt Lake City before, and he thought it would be a nice idea for me to come."
His recital of five pieces begins and ends with compositions by fellow countrymen; he calls it a sort of British sandwich.
Dr. Cleobury will do double duty while he's here. He's also a choral conductor and this Sunday he'll raise his baton and lead the Mormon Tabernacle Choir.
At home he conducts the King's College, Cambridge Men and Boys' Choir, the University Chorus there and the BBC Singers.
Dr. Stephen Cleobury: "I'm hugely excited by this possibility because the choir here is so very famous. So for me to come and be involved in a performance with them is a great thrill."
The thrill, say the singers, is mutual.
There are free tickets available for tomorrow night's recital at 7:30 in the Conference Center; you can get them at the box office at Door 4 or there's a link at the top of this story. You don't need tickets for Sunday morning's broadcast.
×
Most recent Utah stories