Estimated read time: 2-3 minutes
This archived news story is available only for your personal, non-commercial use. Information in the story may be outdated or superseded by additional information. Reading or replaying the story in its archived form does not constitute a republication of the story.
Coco Warner ReportingFirefighters fought back a three-alarm house fire in Herriman early this morning. The two people inside got out okay. Investigators believe the fire started in the chimney. They estimate damage at $100,000.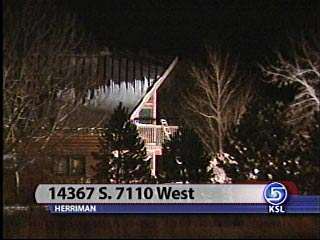 This house fire illustrates a problem Salt Lake County firefighters have been dealing with for years -- limited water supplies, and lack of access to water in several parts of the county.
Firefighters were forced to call a second, then third alarm on this house fire. The reason? They couldn't get enough water quickly enough to douse the flames. The nearest fire hydrant was a half-mile away.
Time is not your friend when you're dealing with fire. It took firefighters nearly 45 minutes to put out this blaze.
Capt. Jay Ziolkowski, United Fire Authority: "Water was kind of an issue tonight, the closest hydrant from what I understand was about 1/2 mile away."
So firefighters had to set up water lines to span the distance. And this is not a problem exclusive to Herriman.
The fire hydrant just west of Ruth's Diner is the last fire hydrant you'll see for miles as you drive up Emigration Canyon.
Emigration Canyon is a prime example of an area with an inadequate water supply. We drove two miles past that last fire hydrant, passing dozens of homes nowhere near a hydrant, which in the case of a fire could be very dangerous.
Rand Andrus, Fire Marshall: "In some of the areas, we've had structures over the years built earlier on that did not have infrastructure of water lines and hydrants in place. Most of the places were built with the use of their own wells that they've dug and used that for their own culinary use."
But those wells don't provide firefighters any access to water. And city officials can't really force people to retrofit their homes.
Rand Andrus, Fire Marshall: "We can't go back and make somebody who already owns their home and is already involved in their house, and go back by the code and say you have to change this now to come up to the current code."
But they can make a strong recommendation to install a residential sprinkler system.
Rand Andrus: "And many people balk at the price of that, it's cheaper than trying to bring in water lines, but it is a way for them to protect their homes so they can at least evacuate."
If you live in an area where you are concerned about lack of water in the case of a fire, you can call your fire department for advice. Salt Lake County has already formed a special service district in Millcreek Canyon to tackle some of these water issues.
×
Most recent Utah stories