Estimated read time: 1-2 minutes
This archived news story is available only for your personal, non-commercial use. Information in the story may be outdated or superseded by additional information. Reading or replaying the story in its archived form does not constitute a republication of the story.
Sandra Yi ReportingTwo climbers stranded for days on a mountain in Zion National Park were finally rescued this morning when a helicopter hauled them to safety. The couple was stranded for four days on a 1500 foot cliff. Bad weather made a helicopter rescue impossible until this morning.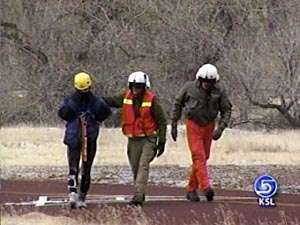 A filmmaker shooting a climbing documentary in Zion caught the dramatic rescue on tape. He just happened to be at the rescue site. The climbers were stranded on top of a steep cliff called, "The Streaked Wall". It's so remote a helicopter can't land there. So the couple had to be airlifted one at a time by a rescuer who was attached to a cable, from the bottom of the helicopter.
David Eaker: "Once we did get a break in the weather, a window of weather, we were able to get a helicopter from the Grand Canyon and use a short haul line, which is when the rescuer dangles on a line below."
The rescue went without a hitch. The climbers, who are both in their mid-30s and from out of state, were cold and hungry, but they did not need any medical attention. Both are experienced climbers, but became stranded because of bad weather.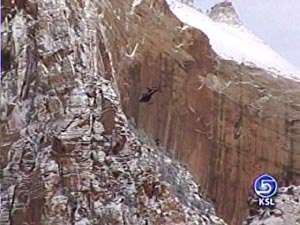 Park Rangers became concerned when the two didn't return by the designated date on their permit. They were located yesterday and rangers were able to drop them a survival package, which included food, sleeping bags and a radio.
Rangers urge climbers to be aware of conditions, especially in the winter. They say, be prepared for a longer trip by packing extra food, clothes and gear. Also, know your routes and check in with park rangers.
×
Most recent Utah stories