Estimated read time: 2-3 minutes
This archived news story is available only for your personal, non-commercial use. Information in the story may be outdated or superseded by additional information. Reading or replaying the story in its archived form does not constitute a republication of the story.
John Daley ReportingSalt Lake City is taking its best shot at landing Utah's first major league soccer franchise. Two cities--Salt Lake and Murray--are vying to host a new stadium for the Real Salt Lake club. And, after a lengthy search, Salt Lake has selected its site.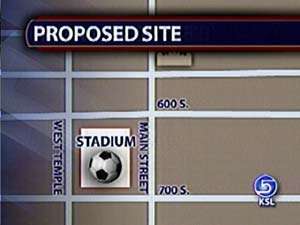 The site is west of Main Street between 6th and 7th South, just south of the Little America Hotel. It's near to the freeway, near to TRAX, and the city sees it as a major anchor for the south side of downtown.
This week Salt Lake's brand new MLS soccer club scored on two fronts, signing top flight player Clint Mathis, and closing in on a prime downtown location as one of two finalists, along with Murray, as a site for its 22,000 seat, 60 million-dollar stadium.
The team's CEO says it's been a good week.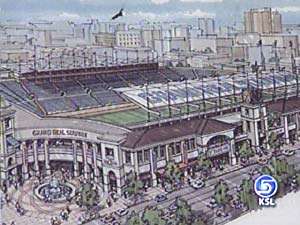 Dean Howes, CEO/Real Salt Lake : "We've had some good success on both sides. We're thrilled with that."
The city views the stadium as a major economic engine for the south part of downtown. The city would purchase the property, sign the team to a long-term lease, and look to develop new parking, housing and retail near by.
Rocky Anderson, Salt Lake City Mayor: "Along with that could come more housing, more entertainment, more retail. All of it as a package to help support what's going on at the stadium and vice versa."
Anderson sees the stadium as a major gathering place for everything from concerts to high school games to conventions. One major draw--there are 16 hotels within a three block radius, with over 4000 rooms. Two--the Little and Grand America--are owned by billionaire Earl Holding, who owns 70% of the 10 acre stadium site. Both Anderson and the soccer team says Holding supports the proposal, though his representatives declined comment today.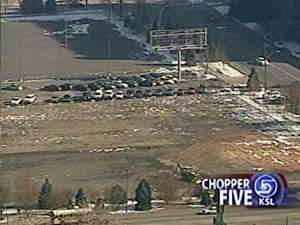 As part of the deal, Salt Lake City would build a brand new TRAX stop right at the front doorstep of the new stadium."
Vasilios Priskos, Real Estate Broker: "It think it's a great site. Again, transportation is key. Having it right off the freeway exit and having it right next to light rail is fantastic."
Dean Howes, CEO, Real Salt Lake: "I think it's a great site. It acts as a tremendous anchor to the south end of downtown Salt Lake. It's great to have a couple of hotels around it."
Salt Lake City is expected to finalize its proposal a week from now. Also in one week, the league holds its draft and Real Salt Lake has the number one pick. The team will start practicing next month and has its first game in April.
×
Most recent Utah stories