Estimated read time: 2-3 minutes
This archived news story is available only for your personal, non-commercial use. Information in the story may be outdated or superseded by additional information. Reading or replaying the story in its archived form does not constitute a republication of the story.
Shelley Osterloh ReportingFor the first time ever, an American woman is ranked top in the world of skeleton sliding, and she is a local Utah woman who has been sliding for only four years.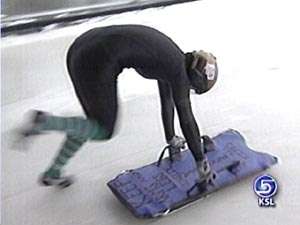 Noelle Pikus Pace is from Orem. Out of the four World Cup Skeleton Races this season, she has won three. It's only her second full year on the World Cup Circuit and she is ranked number one in the World.
We first spoke to Noelle Pikus Pace in October when she was training at the Olympic Park. The Orem track star was recruited to push a bobsled when she was a senior at Mountain View High. She switched to Skeleton and was ranked 14th in the world at the end of last season.
Noelle Pikus-Pace: "Each race you try to make another goal. Just my biggest goal is to just have fun."
Halfway through this season the 22-year old woman has won three World Cup titles.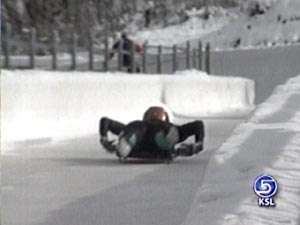 Noelle Pikus-Pace: "Just trying not to have doubts in my mind. I think the second you allow a doubt to get into my mind, that's when you can't succeed to your potential. It's just been clicking."
Noelle was home for a holiday break, a chance to catch up with husband Janson and pick up more school work. While competing at the highest international level, Noelle is a full time student at UVSC. She says before winning one World Cup title, she was up till midnight taking her finals by e-mail. Relieved, she showed up at the race all smiles.
Noelle Pikus-Pace: "They are like you are at the hardest track in the world. Like I don't care this thing is easy compared to my finals. Compared to the 18 credits I just took, this is a piece of cake."
Competition and college are a tough combination, but she says her husband helps make it work.
Noelle Pikus-Pace: "He's gone and talked to teachers for me. If I'm missing something that I need, he Fed-Ex's it to me. Just being there with me always."
As for the Olympics, yeah sure she wants to go, but even she is a bit surprised to find herself on track for an Olympic medal.
Noelle Pikus-Pace: "Going to the Olympics has never been a goal of mine and now that it's attainable, it's kind of surreal. Take it one step at a time and do my best where ever I am."
And right now, Noelle is among the first to be training on the brand new track at Torino Italy, the same track where she hopes to compete in the Olympics next year. She has a World Cup race on January 20th.
×
Most recent Utah stories