Estimated read time: 5-6 minutes
This archived news story is available only for your personal, non-commercial use. Information in the story may be outdated or superseded by additional information. Reading or replaying the story in its archived form does not constitute a republication of the story.
(AP / KSL News) In Washington County they are already talking about this as one of the biggest floods in a century. And it's not over yet.
Governor Huntsman says he will declare Washington County a disaster area after touring the flood ravaged region today.
The declaration should open up access to federal disaster relief funds.
Huntsman says damage to homes and infrastractures was more extensive than he expected.
Green Valley residents who are without phone lines tonight can call their area fire station for help.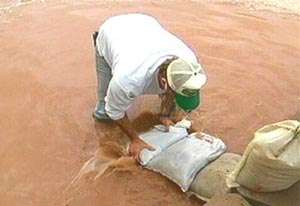 Flooding has left the area without 911 service.
Qwest spokesman Vince Hancock says cell phones can be used to call the fire station at 435-634-5821.
About 31-thousand phone lines are effected. It is not clear when they will be back up.
Southern Utah residents, already reeling from flooding, shouldn't expect relief any time soon.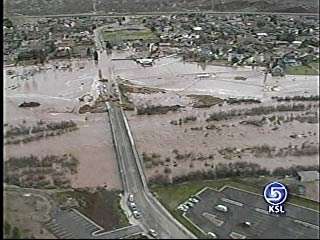 Rivers running above flood stage weren't expected to begin receding until Wednesday, forecasters said. Residents in Gunlock, northwest of St. George, were left stranded when a bridge was knocked out in the wide and powerful storms, which also were bringing heavy snow on Utah's mountain ranges.
It wasn't clear if the storms were more good news for the state's drought outlook, as forecasters warned that the winter season is still young and there's time for any increased snowpack to melt away.
The south was bracing for more flooding Tuesday and Wednesday as another inch of rain was predicted for parts of the region, the National Weather Service said.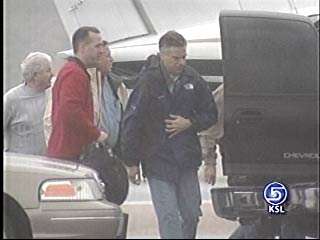 Governor Huntsman landed late morning in St. George, and immediately visited some of the areas hardest hit by the flooding. His principle role in visiting was to give a morale boost to the troops of volunteers.
Gov. Huntsman: "You are all volunteering your time and your services during a very difficult time down here, and we appreciate what you are doing. So lets go to work."
The Governor intends to visit several other areas in Southern Utah hit by the flooding.
The Virgin and San Juan rivers were expected to reach flood stages again Tuesday evening and continue to run high through the night before receding Wednesday. Rain in the area was likely to change to snow sometime Wednesday, National Weather Service hydrologist Brian McInerey said.
McInerey, who has spent 15 years at the NWS, said it was the worst flooding for St. George during that span.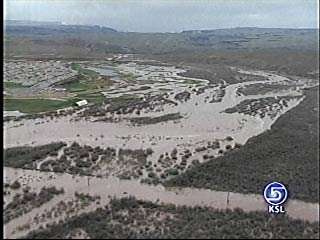 "The soils are totally saturated in the area, so any rainfall that falls will be transformed into a river," McInerey said. "Think of it as a wet sponge and everything is just running off it."
Flooding started in the St. George area Monday morning, damaging roads, filling city sewer systems with dirty river water and flooding several residences. The well-used Shivwits bridge, between Gunlock and St. George, buckled under the weight of rushing water and was closed.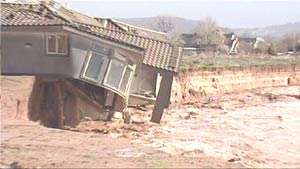 Access to the tiny community of Gunlock was cut off when a bridge was pushed from its footings by flood waters, St. George police spokesman Craig Harding said. The Shims Dam, a 100-year-old brick diversion dam near the town, also failed, contributing to flooding there.
Also Tuesday, the Washington County towns of Leeds and Enterprise reported flooding in some areas and were asking for volunteers to help with sandbagging efforts. In Santa Clara, flood waters undercut the foundation of a home along the river bank, washing part of it away.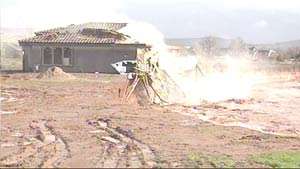 At least one death has been linked to the floods. A man driving near Quail Creek Reservoir climbed onto the roof of his SUV after getting trapped in a flooded wash. A wave swept him away and his body has not been found. Authorities say he is presumed dead.
Washington County remained under a state of emergency, and officials were sending assistance, including about 50,000 sandbags. Authorities were also beginning damage assessment Tuesday, trying to determine if the region would qualify for federal aid.
The Virgin River, which cuts through the southwest corner of the state, was moving at 3,500 cubic feet per second -- well above its normal volume of 50 feet per second, McInerey said. Smaller rivers in the region, which are not monitored, are also flooding.
"If that's any indication of what's happening in the slot canyons then everything is roaring," McInerey said.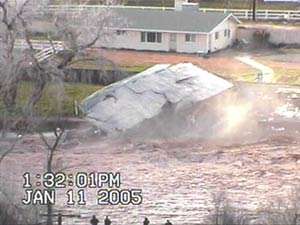 The north wasn't immune. More than a dozen homes in Pleasant Grove in Utah County were flooded Monday when storm drains spilled over in Manila Park, a northwest neighborhood, city police Capt. Cody Cullimore said. Cullimore's own house was one of those damaged.
In Logan, where nearly 20 inches of snow had accumulated since Saturday, some residents had spotty electrical service after wet, heavy snow took out tree branches and downed some power lines.
A Smith's grocery store was evacuated after its roof bowed under the weight of heavy snow.
At higher elevations statewide, snow was stacking up. Overnight Tuesday, 10 inches dropped at Kolob in Zion National Park, and almost five inches fell in Pine Valley, north and west of St. George.
Along the Wasatch Front, 5 inches fell in Farmington Canyon, 7 inches were registered at the Alta ski resort and 7 inches fell at Solitude in Big Cottonwood Canyon. In Weber County, 10 inches accumulated at Monte Cristo.
All the rain and snow could bode well for the state, which has suffered through six years of drought. Snowpack totals so far for the season are at roughly 150 percent of normal and rainfall totals in southern areas are between 350 and 400 percent above normal, the weather service said. Most southern Utah reservoirs were considered "filled and spilling" on Tuesday, McInerey said.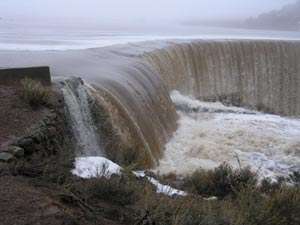 "We'll have to see how the spring shakes out," McInerey said. "As we saw last year we had a tremendous snow season going and then it basically shut off in February and March and then we had a real rapid melt."
(Copyright 2005 by The Associated Press. All Rights Reserved.)
×
Most recent Utah stories