Estimated read time: 7-8 minutes
This archived news story is available only for your personal, non-commercial use. Information in the story may be outdated or superseded by additional information. Reading or replaying the story in its archived form does not constitute a republication of the story.
(KSL News /AP) -- A day after major flooding in Southern Utah, people are looking at the damage and trying to pick up what's left. The damage is said to be in the tens of millions of dollars.
The flooding situation appears to finally be over, but the damage created over the last two days is staggering. At lease 20 homes are destroyed, dozens more have had to be evacuated. People there are just trying to take it all in, amazed at just how bad it really was.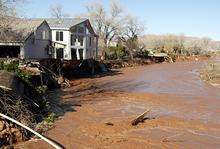 The bed is made in Donald and Dorthy Reese's St. George home, but from their bedroom you can now see directly out to the Santa Clara river
Donald Reese, Home Destroyed: "They told us our house was undermined and about an hour later they called and said the house was gone."
Yesterday afternoon the flood waters literally cut the bottom out of several homes that had been more than 300 feet away from the river. People did what they ould to get out the Reese's belongings with only minutes to spare, before most of their home fell into the river.
Dorothy Reese, Home Destroyed: "They got out more than I thought they would in the time they had. They only had five, ten minutes until the police asked them to leave."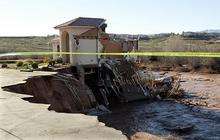 All along the Santa Clara River is debris, what's left of at least 20 homes that authorities say were completely destroyed. Other homes are still standing, but the backyards are gone and the homes are now condemned, too dangerous for anyone to be inside.
Don Clark, Home Condemned: "To chew away that fast that much land and just wash it away like it was dust with the wind blowing, it was amazing, incredible and scary at the same time. We could feel earth break away and feel underneath our feet."
Governor Huntsman got an aerial view of the damage from a Backhawk helicopter this morning, and pledged state support for cleanup and rebuilding.
Gov. Huntsman: "The worst is over from a weather standpoint, and now the rebuilding begins. And this is when our communities really need to pull together with their very best efforts."
The river is still raging, but it has dropped several feet from last night, and by tonight the cleanup will really start to begin.
Yesterday we told you this was a 100-year-event. Now it looks like it may have been even more rare than that. In the Santa Clara River peak water flows are estimated at 6,000 cubic feet per second. That's the biggest flood there since 1995, and a flood you can statistically expect only once every 25 years. But on the Virgin River near Bloomington, peak flows measure more than 20-thousand cubic feet per second. That's more than anything since the Quail Creek Dam broke in 1989. And it's what you might expect once every 100 to 200 years.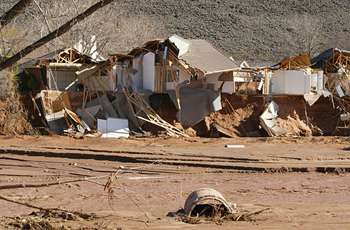 Local agencies in southwestern Utah today began assessing damages from the flood waters. It's not an easy task because the damage is spread over a large area. Many critical services have been disrupted.
The drama and the heartache came from the spectacle of homes dropping into the river.
Sheriff Kirk Smith: "To see friends and neighbors lose everything, it tears your heart out. It just absolutely tears your heart out."
But the biggest headaches and the long-term hangover will come from boring details – conduits, pipes, wires, road beds and bridges, now torn out by flood water. Throughout southwest Utah there are towns and neighborhoods with interrupted gas service, power problems, unreliable phones, disrupted transportation corridors.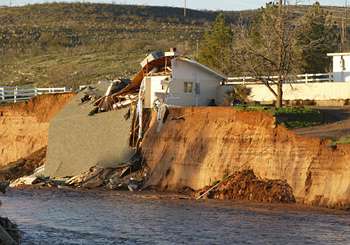 Sheriff Kirk Smith: "We're talking months, if not years, to get things back to where they were, if we ever get them back to where they were."
One of the concerns is that there may be more damage in the future. There are two gas pipelines under the riverbed, and the water is cutting deeper into its channel. Several teams of assessors and national guardsmen are in the field now with their GPS units and computers, clipboards and shoe leather. They're mapping the flood zones and assessing damages to private property.
Ryan Hatch: "Some have disappeared entirely. We'll maybe have to redraw subdivision lines."
When they eventually total it up, it's likely to be a stiff price tag. Arthur Partridge, Washington County Assessor : "Tens of millions of dollars would be my guess.
The cost of fixing infrastructure could be in that ballpark too, and local agencies say they don't have the money. Federal assistance won't kick in unless the total is above $2.5 million, but local officials say that won't be a problem.
Regardless of who pays, officials say restoring the boring but vital infrastructure is the top priority.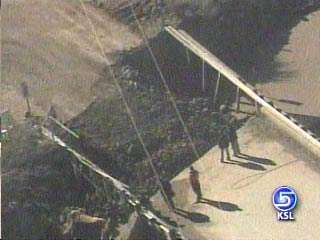 Also late Wednesday, limited access was restored to the tiny community of Gunlock, which had been isolated after both bridges that access the town were partially washed out.
"We've kind of reinforced it and kind of jerry-rigged it, just so we can get some supplies in," Washington County Sheriff Kirk Smith said. "But it's for very limited use. We're only letting family members and emergency personnel in."
About 77 of the town's 350 residents were still living in Gunlock Wednesday, said Smith, who went there by helicopter for a town meeting earlier in the day.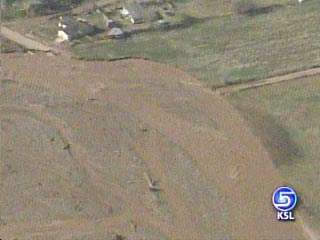 "We're trying to see what we can do for them," Smith said. "They're pretty shell-shocked."
Gunlock remained without electrical and phone services, Wednesday. About 2,000 residents in the Green Valley area of St. George also had no landline phones, Qwest Communications spokesman said.
In Santa Clara, heavy equipment was used Wednesday to build a berm into the new river bed cut by the water to divert any future flood waters, Mayor Dennis Drake said.
The past few days have been emotional ones for the 5,500 residents of hard-hit Santa Clara. But the community pulled together, with residents standing watch at nine locations along the river overnight Wednesday looking for developing problems.
"You hate to see a person with $700,000 invested into a new house lose everything. I don't know how you recoup what he's lost, because the lots aren't there now to rebuild on," Drake said. "We're a small community. These are people you know, it's been emotional."
North and east of St. George the communities of Leeds, Enterprise and Toquerville also experienced severe flooding.
Further away in Zion National Park only minimal rock and mudslides were reported. The flood waters also created a spectacular water show, creating dozens of waterfalls, spokesman David Eaker said.
Despite the millions of dollars in damages only one death -- a man swept away by raging flood waters after he got out of his vehicle and stood on top -- has been linked to the flooding and no serious injuries reported.
The identity of the man presumed dead has not been released, nor has his body been recovered.
The Washington County homes consumed by the Santa Clara River were valued between $500,000 and $1 million, and most were not insured because flooding in the area is rare, Smith said.
Volunteers are stepping out of the woodwork to help the flood victims in Southern Utah. Today some church members helped a family move their belongings out of their house. The family lives near the Santa Clara River and the water is dangerously close.
Yesterday volunteers in Enterprise spent hours packing sandbags. They ignored the hail as they thought about those in need.
Sheriff Kirk Smith, Washington County Sheriff's Office: "It's brought the best out in the community, but that's what happens in tragedies. This has been one of those times where people are responding to help people they don't even know. And they're not asking any questions."
As people are moving out of their homes, relatives, friends and neighbors are taking them in. The Red Cross says that's probably why they only had 16 people in their shelter overnight.
(The AP Contributed to this story)
×
Most recent Utah stories