Estimated read time: 2-3 minutes
This archived news story is available only for your personal, non-commercial use. Information in the story may be outdated or superseded by additional information. Reading or replaying the story in its archived form does not constitute a republication of the story.
*Sam Penrod Reporting*Deseret First Credit Union has set up a "Fund for Flooded Families." Call the office on River Road in St. George; the number is 435-656-5656.
Or make a donation to the American Red Cross here in Utah. Call 801-323-7000 or visit their web site. Tell them you want the money to go to Utah flood victims and that's where every cent will go.
Mervyn Bennion: "I've lived here nine years thinking I was covered with flood insurance."
Today some St. George residents who lost their homes are finding out they are not covered, and trying to figure out, what's next? More than 25 homes are gone; several others will likely have to be torn down. It's the reality many people are facing in Washington County in what's turning out to be one of the worst natural disasters in Utah's history.
86 million dollars and still counting, that is the latest damage estimate in Washington County. Twenty-five homes are destroyed, another 15 condemned. It's a situation here that is staggering, and it leaves people wondering what will happen now.
If you were to try and walk through Mervyn Bennion's front door, you'd fall a hundred feet to the river below. His house and most everything inside is lost, but what makes it worse is the discovery there is no flood insurance.
Mervyn Bennion, Home Destroyed: "I didn't find out we weren't covered until Tuesday night, and my house failed about 4 a.m. on Wednesday morning."
Bennion and other homeowners in the neighborhood thought they had flood insurance, purchased by the homeowners association. But the policy was cancelled in November, although there is some question if they would have been covered anyway.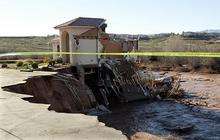 Mervyn Bennion: "It turns out the coverage was for the elevation above the 500 year flood plain which puts it up by the airport, it was probably pretty worthless."
For others whose homes are still standing for now, they are worried what tomorrow may bring and have a lot of question about the future.
Ray Allred, Home in Danger: "It will be several days before they make a determination of which houses are habitable, and which cannot but long range plans. Everyone is asking and I don't think there are any answers yet."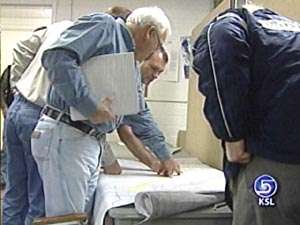 This afternoon officials from FEMA arrived to survey the damage from the air and begin adding it all up. Local officials hope that will mean federal assistance in cleaning up as well as rebuilding.
×
Most recent Utah stories