Estimated read time: 2-3 minutes
This archived news story is available only for your personal, non-commercial use. Information in the story may be outdated or superseded by additional information. Reading or replaying the story in its archived form does not constitute a republication of the story.
John Daley ReportingThe world's largest retailer, Wal-Mart, wants to repair its tarnished image. Today the corporate giant, which operates dozens of stores in Utah, began running full-page ads aimed at answering its critics.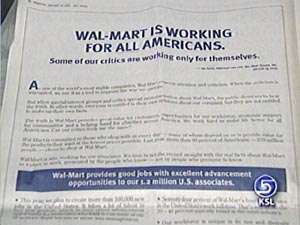 Here in Utah Wal-Mart has stirred controversy in a number of communities. Opponents have argued the company has a bad impact on traffic, crime and local business. But now the company is firing back at critics here and elsewhere, with new national ads.
Centerville and Sandy are just two of the towns where Wal-Mart has become a lightning rod as local citizens organize to stop the world's biggest retailer. Now the lightning rod is firing back with a series of national ads disputing allegations it discriminates in hiring and promotions and drives smaller rivals out of business.
The ads, in papers like USA Today, say the company plans to create 100,000 US jobs this year, and that most of its hourly workers work full time.
Bob McAdam, Walmart Spokesperson: "Our point is we've heard a lot of our critics say things about our company that simply are not true and we want to get the facts out there so people can make their own decision about what's right or wrong with this company."
Recent Wal-Mart fights in Utah have seen residents who like the convenience and low prices pitted against those wary of the impacts.
Mike Avery, Sandy Resident: "I'm a Wal-Mart shopper. I'll probably be a customer for life. I'm treated well there and I don't have anything against them."
Jeff Moore, Sandy Resident: "I just know that what I do know about Wal-Mart, I don't like. And I don't want one right here in my back yard."
A recent exclusive Dan Jones poll shows the mixed feelings, we asked roughly 300 Utahns, would you support a Wal-Mart located near your home? 55% say yes, 38% say no.
We asked about important factors public officials should consider about big box stores. 81% called generation of new jobs important, 80% said tax revenues, and 76% said competitive prices were important factors.
But even higher numbers were concerned about negative impacts. 85% called local traffic noise and crime important. 89% said big box stores should be limited to commercial zones--near major roads, and 87% say big box retailers are bad for local businesses.
Local fights over Wal-Mart keep making news. In Ogden a group of homeowners and business owners are fighting a Super Wal-Mart there, where the city may condemn properties to make way for it. And in Sandy opponents are fighting to put the issue on the ballot.
×
Most recent Utah stories