Estimated read time: 2-3 minutes
This archived news story is available only for your personal, non-commercial use. Information in the story may be outdated or superseded by additional information. Reading or replaying the story in its archived form does not constitute a republication of the story.
Keith McCord ReportingIt's one of Salt Lake's most popular attractions each year and it begins tomorrow -- the 2005 Utah International Auto Expo. If you're a "vehicle nut", you'll need to be at the South Towne Expo Center.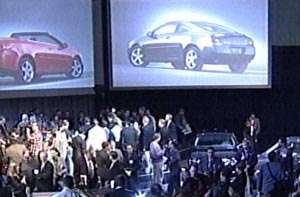 If you want to see what's new this year, what's new next year; if you want to dream about the car you can't possibly afford-- this is the place! Tonight is a special black tie charity event, where two auto dealers will be inducted into the Auto Dealers Hall of Fame. The doors open to the public tomorrow morning at 10:00.
It really is an entertaining experience -- all the best automobiles in one location for you to see, smell, and dream about. Thousands of people attended last year's auto expo, and the place will be packed again, starting tomorrow.
Many of the cars that you'll see this weekend have been rolled out at other shows the last several weeks. Here's a sneak preview for you: Pontiac plans on making a big splash this year with it's new G-6 and Solstice models.
Bob Lutz, VP, G.M Product Development: "Clearly signaling that Pontiac as a brand is back in the game."
And don't forget the 2006 HHR from Chevrolet. It's a high-roofed sportswagon. Chevy went back and borrowed design features from its original Suburban models from the late 40's.
Gary Cowger, President G.M. North America: "There's a whole section of the market that just wants to have fun, so we put that stylish flair, stylish concept right from the factory with the HHR."
And then there's the CLS 55AMG from Mercedes; it too is new for 2006. Ballpark price: $67,000, and if you want one, don't wait too long!
Rob Allen, Mercedes-Benz AMG Product Mgr.: "We're only going to produce between 1,000 and 2,000 of these for this year, and that means it will be a rare and exclusive vehicle on the road."
These are just a few of the hundreds of cars that will be on display at the auto expo this week. Again, it opens to the public tomorrow morning at 10.
×
Most recent Utah stories