Estimated read time: 2-3 minutes
This archived news story is available only for your personal, non-commercial use. Information in the story may be outdated or superseded by additional information. Reading or replaying the story in its archived form does not constitute a republication of the story.
Deseret First Credit Union has set up a "Fund for Flooded Families." Call the office on River Road in St. George; the number is 435-656-5656. Or make a donation to the American Red Cross here in Utah. Call 801-323-7000 or visit their web site. Tell them you want the money to go to Utah flood victims and that's where every cent will go.
If you are volunteering or have volunteered in the cleanup, please call the Volunteer Line at (435) 628-9081. They need a tally of the number of volunteers and their time.
(KSL News) FEMA teams are out this morning, surveying damaged caused by flooding in Washington County. They are also meeting with homeowners affected by this week's disaster.
A presidential disaster declaration could clear the way for some funding, but individual homeowners may not get a lot of financial help from the government.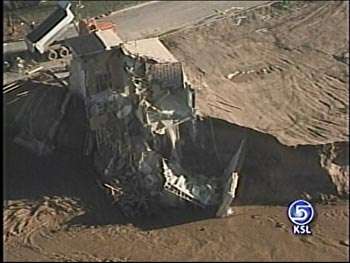 The latest damage estimate remains at $86 million, but it is expected to top $100 million. Twenty-five homes are destroyed, another 15 condemned. It's a situation that is staggering, and it leaves people wondering what will happen now.
It's a tough road to recovery for residents in Washington County. Many have lost everything, and some families are learning insurance won't cover them.
Mervyn Bennion, who lost his home in the flooding, says, "I didn't find out we weren't covered until Tuesday night, and my house failed about 4 am on Wednesday morning."
Bennion and other homeowners in the neighborhood thought they had flood insurance, purchased by the homeowners association. But the policy was cancelled in November, and there is some question if they would have been covered anyway.
Those homeowners must now rely on donations, and government funding to rebuild what flood waters destroyed. FEMA officials tell KSL Newsradio there is a cap on how much assistance they can provide, and homeowners should not expect FEMA to pay for everything because the agency cannot.
Although a final decision isn't expected for a couple more days, Washington County will likely be declared a disaster area. That will open the way for some federal financial assistance.
×
Most recent Utah stories